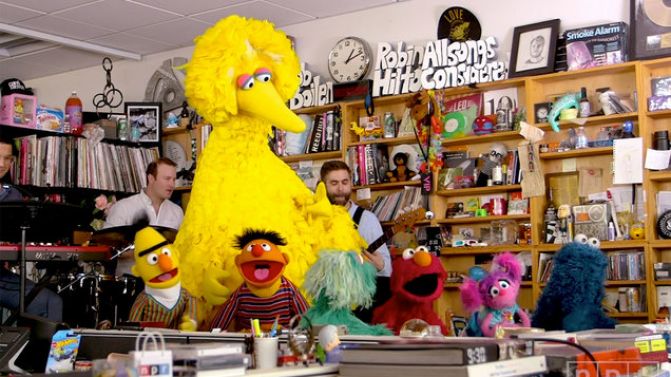 Sosefina Fuamoli of Music Feeds covered this article fairly well since she went into some detail concerning how some of the cast members from Sesame Street were brought to the NPR offices to celebrate the 50th anniversary of their show in fitting style. The group that made their way in decided to sing a medley of songs that were both touching as well as since a lot of fans likely recall at least a couple of the songs and could probably sing along. Sesame Street has been around for half a century now and has helped to entertain and educate at least two or three different generations if not more, providing the kind of programming that parents saw as wholesome and worthwhile when it came to their kids. It's easy to admit to watching this show when we were kids, and possibly even as we grew up since there were a great many lessons to learn from the show and enough characters to keep it interesting.
The roster has changed a bit over the years but obviously things have stayed pretty much the same since, as Bob Boilen of NPR has shown, a lot of the old favorites are still here and managed to rock this tiny desk series. It's kind of funny to think how long Sesame Street has been around and how many of us have likely turned away from it once we became old enough that it was no longer considered cool or trendy. There are those among us that happened to hold onto our favorite characters however since trendy or not they're still great memories that come with growing up. Big Bird, Bert and Ernie, Grover, Elmo, Cookie Monster, and all the others are parts of our childhood that a lot of fully enjoyed when we were little and came to love even more as we grew old enough to learn more about them. It might have been something of a shock to find out just how they were really brought to life, but by the time we found out we were likely old enough to see past the smoke and mirrors and divine for ourselves just how the show worked.
The show itself is pretty simplistic thanks to the need to cater to kids, and the lessons that are taught are geared towards education as well as morality when it comes to being a human being. It's a wonder sometimes how people that ever watched this show didn't take the many lessons that were imparted into their adult years, wouldn't you think? Sesame Street has for a long time been a bastion of everything we'd love to teach our kids and stands as an example of what we would like them to believe is a world that can be shared and experienced by everyone in equal measure. But too often those lessons don't make it all the way to adulthood and it takes a bit of reminding now and again when the next generation comes along. The show isn't bound to make everything right, as it's more of a guide than a set of rules that are needed to govern a society. But from the songs, the lessons, and all the way to the very core of what the show is about, you would think something might stick in the minds of those that have watched.
There's a warm and fuzzy feeling this show awakens in people and it's obvious that folks feel it when they watch the show, even if they don't happen to display any sign that this is so. The songs and the lessons learned are strong enough to resonate with just about anyone since it reminds us of the people we'd liked to be and might not be able to identify as in many ways. This show reminds us of the innocence that seems to disappear the moment we become adults, and it pulls at a lot of people in a way that's hard to describe but is evident enough when people find little to no way that they can deny that it does make them feel good when watching this program. The fact that it's been around for five decades means that it's done something right, and quite honestly it doesn't matter that it still has people who make fun of it and don't like the show whatsoever, the people that love the show outnumber them in a big way, or it wouldn't be here.
From the characters to the cast to the lessons learned, Sesame Street is one of the most effective kids' shows to ever be created and as one of the most popular it's more than earned its spot in the record books. Anything the show does now is just the icing on the proverbial cake since their reputation has been one that's been enjoyed over the decades.
Tell us what's wrong with this post? How could we improve it? :)
Let us improve this post!