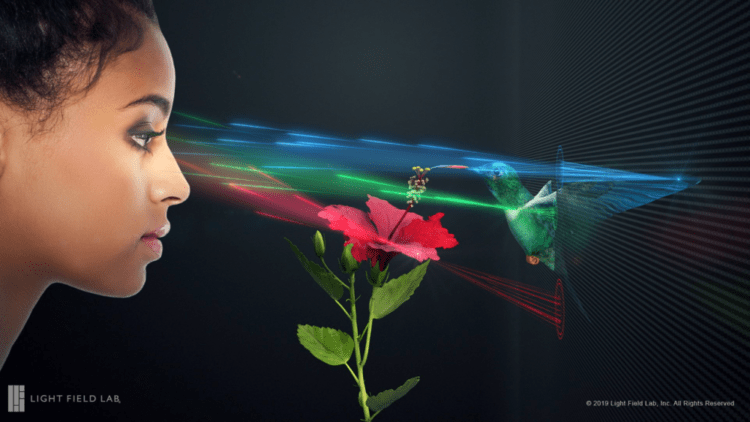 Holographic television once seemed little more than a science-fiction concept. However, this is an area of technology in which there have been some terrific advancements. There have been many groups of scientists, engineers, and research teams that have worked on this technology over the last decade. Now, the possibility of holographic televisions becoming a reality is closer than ever According to Variety, the latest company to embark on the process of developing holographic displays that would eventually become holographic televisions is a startup called Light Field Lab This company has just undergone a Series A round of funding, which has led to them raising $28 million. The two leaders in this round of funding were Taiwan Capital and Bosch Venture. The money raised is a much-needed cash injection for the company to achieve its goal of creating holographic displays.
Light Field Lab is a San Jose-based company that was founded just over two years ago. Their goals are not an unreachable science-fiction dream, as they have already developed a working prototype of a holographic projector. The gadget measures four inches by six inches, and it can project 3D holograms into the air. Last year, Light Field Lab gave Variety a demonstration of the prototype working. Those who saw the demonstration witnessed the gadget producing manipulations that have not previously been possible with any other attempts at creating a holographic projector. Jon Karafin, the CEO of the company, has said that the tech they are undertaking is really hard. He also said that the company was working really hard to improve the technology. Some of the areas that they have tried to improve include the brightness, the detail, and the depth of the projected objects. Furthermore, they have worked on producing new video examples and interactive, real-time holographic demonstrations.
Ingo Ramesohl, the managing director of Bosch Venture Capital that has invested in the startup, has said that the holographic display technologies being developed have the potential to open up new business opportunities in both the enterprise and consumer markets. He went on to say that Light Field Lab has the right combination of expertise and leadership to make holographic technology a reality. The next step in the process is for Light Field Lab to transform their prototype into a real product. The goal is to create modular display units. In turn, this could lead to these units being expanded to larger screen sizes. When this happens, there is the potential for entertainment venues to use these large displays. According to Karafin, they want to position themselves in the market as a leading competitor for the premium LED video wall market. They can only achieve this once they are able to produce their product in larger volumes. Their ultimate aim is to eventually bring their holographic technology products to the consumer market. To do this, they need to create television screens that can play 3D holographic content.
Liberty Global Ventures is excited to get involved in this innovative new technology. The investment company's vice president Ankur Prakash has described it as some of the most exciting technology in the entertainment space now. He has said that Liberty Global Ventures is delighted to get involved and that they hope to position Light Field Lab alongside some of the major competitors in this field. They also want to help the company accelerate the distribution of holographic media. Alongside Bosch Venture Capital and Liberty Global Ventures, many other companies joined the Series A funding round. Some of these included HELLA Ventures, Alumni Ventures Group, Acme Capital, Verizon Ventures, Samsung Ventures, Khosla Ventures, Comcast, R7 Partners, and NTT Docomo Ventures. With such a lot of support, it shows that there is a lot of faith in the success of Light Field Lab.
Of course, this company is not the first to build a prototype of a gadget that can project holographic images as this is something that has interested many companies for some time. Back in 2016, the BBC also joined the race to create a holographic TV, says Wired. The team who worked on this project was led by Cyrus Saihan, the head of the BBC's digital partnership. The project was part of the BBC's work to explore emerging technologies of the future. Saihan and his team combined existing technologies and added new techniques to experiment with ways to create holographic content. They collaborated with a UK-based visual effects and hologram specialist company called MDH Hologram. While the BBC chose archive footage that they thought would adapt well to holographic images, and MDH Hologram used their expertise to format the footage to create holographic images.
The footage selected by the BBC included natural history footage of dinosaur recreations and the firework display of the London New Year's Eve celebrations. To create seemingly holographic images, a simple acrylic pyramid shape was then put over a television before the images were broadcast through the television. This method was inspired by a technique used in Victorian theatre. It was a technique originally invented by a man called John Henry Pepper. He developed this technique during the 1800s to create ghostly images on a stage. The technique works by reflecting an image on a reflective material set at an angle that then creates the impression of a floating image. Next, the BBC tested out the technique on audiences. Those who saw the projected images from the archive footage said that it made watching the television more engaging and that it helped to bring the images to life. This indicated that there was real potential for holographic images in the entertainment sector as it was something that viewers believed would enhance their overall viewing experience.
The work of Light Field Lab is significantly more advanced than the BBC's 2016 holographic project, and this just shows how far this technology has advanced in a relatively short period of time. With progress moving so fast, holographic televisions may become available sooner than you think.