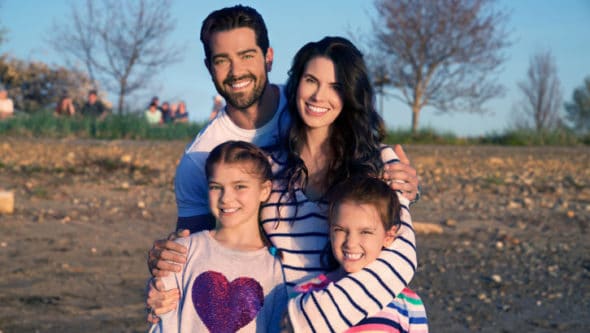 Four seasons in, and Chesapeake Shores has entranced millions of viewers with its story of Abby O'Brien Winters, a young woman who returns to her hometown of Chesapeake Shores, Maryland, to help save her youngest sister's inn from foreclosure. The troubled family dynamics, intriguing love stories, and small-town dramas have combined to make Chesapeake Shores Hallmark's most-watched show in the 25-54 age demographic. We may only be a few weeks into the fourth season, but with only 6 episodes planned, viewers may need to find another outlet for their binge-watching needs sooner rather than later. If you're a fan of family dramas (with a bit of romance thrown in for good measure), check out these top five shows- if you can't get enough of the feel-good escapism of Chesapeake Shores, you're guaranteed to love them.
Nashville
Family drama? Tick. Romantic twists? Tick. Enough seasons to keep you going for the rest of the fall? Tick, tick, tick. During its 6-season run, Nashville gave viewers the chance to escape the grim realities of everyday life and peek into the lives, tragedies, and emotional dramas of the country singing, cowboy boot-wearing residents of Nashville, Tennessee. With screen veteran Connie Britton on fine form as fading country legend Rayna Jaymes (and stellar performances from the rest of the ensemble cast, which included the likes of Hayden Panettiere, Clare Bowen, and Charles Esten), Nashville was escapist drama at its best (or, as Alan Sepinwell notes on Uproxx, "a smart mix of soap opera, music, and political intrigue"). As an added bonus (or not, depending on how you feel about country music), the soundtrack offers an amazing mix of old country standards and fresh new songs written especially for the show.
The Good Doctor
The Good Doctor may only have 2 seasons to its name, but it's already drawn as much critical acclaim as far more established series. The show follows Shawn Murphy, a young doctor with autism and savant syndrome who leaves his hometown of Casper Wyoming for a new life at San Jose St. Bonaventure Hospital in San Jose, California. Thought-provoking at times, shamelessly sentimental at others, The Good Doctor packs that same emotional punch we've grown to expect from Chesapeake Shores (albeit in a very different setting). If you enjoy medical dramas overlaid with hints of romance, you'll not want to miss what's become one of ABC's most-watched shows in recent years. Pack in the first 2 seasons as quickly as you can: the third season is due to hit our screens on September 23rd, 2019.
Raven's Home
If you were a kid in the 1990s, there's a good chance you caught at least a few episodes of That's So Raven, the supernatural children's drama starring Raven- Symone that managed to give a paranormal twist to good old-fashioned fun. Fast forward to 2019, and Raven is all grown-up, divorced, and living with her two children (one of whom shares her supernatural gifts) in Chicago. Joining Raven and her kids are Raven's best friend, Chelsea (also a divorced single parent), and a host of oddball characters that drift in and out of each other's lives, adding enough drama, romantic intrigue and pure entertainment to guarantee hours of viewing pleasure. If you want a bit of comedy with your family drama, Raven's Home is the one for you.
This Is Us
Possibly the most shamelessly sentimental drama to hit our screens in years, This Is Us has become compulsory viewing for anyone who likes TV to not just pull at their heartstrings, but tear it out and wring it out to dry. Set over two different time periods, the show follows the lives of siblings Kevin, Kate, and Randall and their parents, Jack and Rebekah Pearson. Using flashbacks as a way of telling the story of the sibling's childhood, the show reveals the tragedies and events that led the family to where they are today. This is Us has been as warmly received by critics as it has by viewers, earning multiple awards for both the show and its actors (Sterling K. Brown's performance has been singled out for particular praise, earning him an Emmy, a Golden Globe, a Critics' Choice Award, and an NAACP Image Award in the process). "This is Us continues to tug at heartstrings with an emotional exploration of family that ensures viewers will want to keep the tissues close — and their loved ones closer", Rotten Tomatoes has noted, summing up the general consensus to the series so far. If you're new to This Is Us, get watching now: the fourth season is due to premiere on September 24, 2019, giving you only a few weeks to get caught up. Just make sure to stock up on Kleenex before you start.
The Good Witch
If you're in the mood to curl up on the sofa with some light, family-friendly entertainment, you'll not go far wrong with The Good Witch. Based on the 2008 Hallmark channel film of the same name, the series stars Catherine Bell as Cassie Nightingale alongside a starry supporting cast of Baille Madison as Cassie's daughter Grace, James Denton as Dr Sam Redford, Cassie's handsome neighbor (who soon becomes a whole lot more), Rhys Matthew Bond as Nick, Sam's troubled teenage son, and Sarah Power as Cassie's cousin Abigail Pershing. The show's combination of fantasy, comedy, and family drama makes compulsive viewing, never becoming too hard-hitting or gritty to be anything other than pure escapism. Which isn't to say it's all fun and frolics in the park— with storylines that touch on everything from grief, troubled teenagers and heartbreak to family discord and betrayal, the show packs enough of a punch to keep you emotionally invested throughout. The fifth season may have come to an end in August, but we won't have long to wait for more: a 6th season has already been commissioned and is due to broadcast next summer.The Good Doctor
Tell us what's wrong with this post? How could we improve it? :)
Let us improve this post!