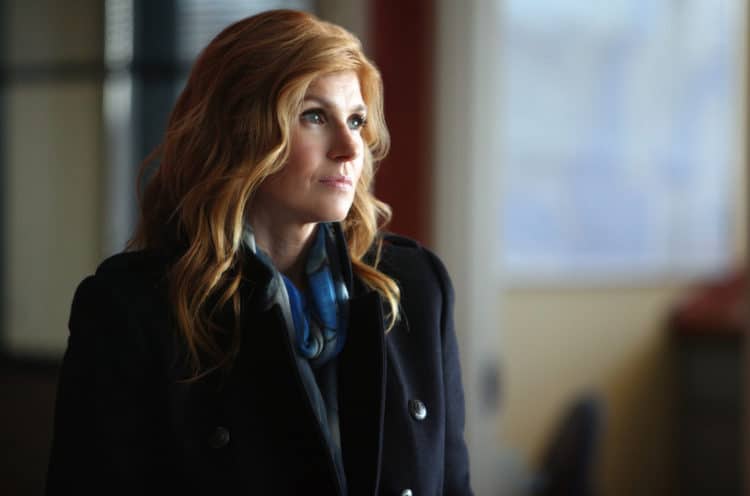 Connie Britton is a successful actress who has enjoyed a prolific career in television. She was born in Boston, Massachusetts, on March 6, 1967, and began her career in the entertainment industry in 1995. She was cast in the sitcom 'Spin City' as Nikki Faber and made her feature film debut in the same year in the comedy film 'The Brothers McMullen'. She is well-known for her roles in 'Friday Night Lights', 'The Last Winter', and 'American Horror Story'.
One of her longest-standing roles is playing the country singer Rayna James in the musical drama series 'Nashville'. Connie Britton first landed this role in 2006 and she remained as the lead cast member of the series until it came to an end in 2011.
'Nashville' is a series that was created by the award-winning writer Callie Khouri and also starred Hayden Panettiere, Clare Bowen, Eric Close, Charles Eston, Jonathan Jackson, and Sam Palladio. This award-winning series premiered on ABC on October 10, 2012. The series ran for six seasons and it was announced on November 17, 2017, that the show would not return for a seventh season. This was sad news for fans of the show and many people wondered what the cast members would do next.
Connie Britton was one cast member that set people talking about what the future held for the actress. Although her time on this series may have come to an end, Connie Britton has already got plenty of work lined up for the future. In the same year that 'Nashville' came to an end, she appeared in two films. She played Kathy in 'Beatriz at Dinner' and Josette Frank in 'Professor Marston and The Wonder Women'. In television, she provided the voice of herself for one episode of 'American Dad!' and also played Ally in two episodes of the television series 'SMILF'.
She has already got her next main television role lined up as she will be playing Abby Clark, one of the main characters, in '9-1-1′. She will appear in this series for 10 episodes. This is a procedural drama series that premiered on Fox on January 18, 2018. It was co-created by Ryan Murphy, Brad Fatchuck, and Tim Meaner. It is not yet known whether this new series will extend to a second season and, if so, whether or not Britton will resume her role for any further seasons that the network orders.
A further project that Connie Britton is currently working on is a television pilot for a series called 'Dirty John'. In this, she will play the role of Debra Newell opposite Eric Bana as John Meehan. There is very little information about this pilot available at this time in terms of who else is involved with the project and when it will premiere.
Fans of Connie Britton can also expect to see her in two films in the near future. The first of these is 'The Land of Steady Habits'. This is currently in post-production and the date of release has not yet been revealed. It was written and directed by Nicole Holofcener and is based on Ted Thompson's novel of the same name, Connie Britton will play the role of Barbara who is a divorcee who meets the lead character in a strip club. Others who star in this film include Ben Mendelsohn, Thomas Mann, Edie Falco, Elizabeth Marvel, Charlie Tahan, and Josh Pais.
The second film that Britton is currently working on is a film called 'Mustang'. This drama film is directed by Laure de Claremont-Tonnerre who also co-wrote the film with Brock Norman Brock. Connie Britton will play the role of a psychologist. The film also stars Matthias Schoenaerts, Josh Stewart, Bruce Dern, and Gideon Adlon. The film is about an ex-convict that is given the opportunity to rehabilitate by taking part in a program that involves training wild mustangs.
Beyond her current projects, fans of Connie Britton will just have to wait and see what the future holds for Connie Britton's acting career now that 'Nashville' has come to an end. Early indications are that she will continue to enjoy a successful career in both the television and film industries as the offers of work seem to be flooding in for this talented actress. Therefore, the future looks bright for Connie Britton.
Tell us what's wrong with this post? How could we improve it? :)
Let us improve this post!