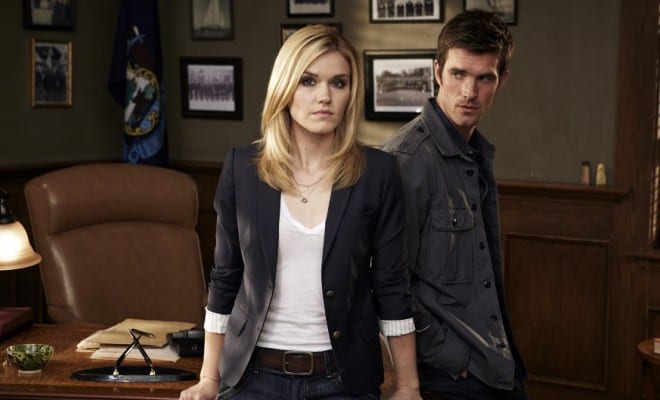 Emily Rose is an actress who has been around long enough to make sure everyone knows she's good at what she does. She's been on everything from "ER," to "Haven," which is arguably her most famous role. She's quite an actress. She takes her roles and personalizes them to her own concept of character, and she makes it work. She's got a lot going on in her personal and her professional life, and many of her fans are excited to get to know her on a more personal level. We are bringing that to you.
1. She's From Washington
She knows a thing or two about living in the cold. She grew up in the Pacific Northwest in a small town called Renton. The Washington native lived in a very cool place – and we don't just mean that literally. That area of the world is so beautiful and so enchanting with its driftwood and lovely beaches, mountains, and the beauty that is so natural.
2. She's Almost 40
It's amazing to us that she's almost forty. She looks fabulous, and she's not slowing down, either. She was born in February of 1981. Her date of birth is February 2. She looks great, and we imagine that there are many people looking to see what she's been doing to keep herself looking that good.
3. She's Married
Sorry, gentleman. She's not a woman on the market. She's been married to her husband since 2009. His name is Dairek Morgan, and together they have three of their own babies. They've been married more than 11 years now, and that's a long time in the Hollywood ages. They have two sons and a little girl, who was born in 2019.
4. She's Well Educated
She knew she wanted to go into the acting business, but she also knew that her education was important. She was certainly a woman with a plan. She attended the Vanguard University of Southern California. She graduated with a degree in Theater Arts. She also went to UCLA to obtain her MFA in acting.
5. She's an Accomplished Equestrian
When she's not busy acting and spending time with her family, she loves to ride horses. She's an accomplished equestrian, and she's good at both Western and English riding. She would eventually like to be given a chance to take on a role in which she gets to ride.
6. She Studied at Oxford
Emily Rose spent a lot of her time working on her acting skills, and she's proud of her work. She spent a summer studying in Oxford in addition to her education and her acting courses. She took on a Shakespeare and theater class while there, and we can only imagine it was an exciting experience.
7. She's the Oldest Child
Growing up, she had two other siblings. She is the oldest of the three. Her younger siblings are a brother and a sister, and we half wonder if she knew growing up that she also wanted three kids? She grew up as one of three, and there's a small part of us that wonders if she was certain that growing up that way would be how she wanted to raise her own kids.
8. She's A Hallmark Girl
We all have such a soft spot for Hallmark movies. They're especially good when they are the Hallmark movies that air in the Christmas season. Emily Rose is no stranger to holiday movies on Hallmark, either. She's done movies this time of year with the Hallmark Channel, and it's something we adore her for.
9. She's Brave
As a mother of four kids of my own, I admire the heck out of women who plan their own home births. I did not – all three of my pregnancies took me into early labor in the hospital with the epidural (especially with the twins). But, a woman who can handle that and do it because she wants to is a superstar to me.
10. She Shares Just Enough
Emily Rose is a woman who shares some of her life with her fans, but she doesn't share too much. She's well-versed in being able to give them just enough, but not too much that we are aware of everything she's doing. She doesn't share much of her family online, but we do love when she shares just a small snippet of what she and her husband and their kid are up to. It's just enough to make us think that she's got a good handle on what she's doing personally and professionally.
Tell us what's wrong with this post? How could we improve it? :)
Let us improve this post!