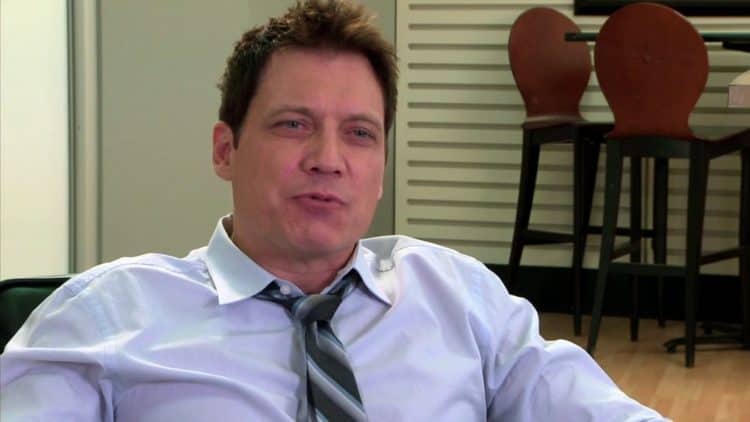 If you're jaw just dropped because you've seen this guy multiple times over the years without knowing his name then don't feel too bad. Holt McCallany has been a pretty common fixture in show business since to be fair, he's that kind of guy that you can plug in just about anywhere and he's going to work. There are certain roles that he's not all that great for, but then again, there are a lot of roles that he can take on that are perfect for him in a lot of ways. He's definitely taken on a lot of aggressive roles in his career since looking at him it's easy to think that Holt is the kind of guy that' was bound to make his way into action or drama movies more often than not. He's been able to do a little comedy here and there, but his rough voice and his kind of blocky appearance have made it clear that he's easier to take when he's playing some sort of tough guy, which has been his area of expertise to be certain. There are so many roles that can be brought up that have helped Holt's career in the past that trying to list them all is bound to take a while, so I'll focus on just a few memorable ones that a lot of people should be able to remember well or say 'aha!' as they figure out that he WAS in that movie they tend to remember.
He had a one-episode role on All My Children in 1986 before he went on to star as Sam Whitemoon in Creepshow 2. For those that don't remember and might even get offended, he showed up in a story called Old Chief Woodn'head. Some folks might think it's offensive to indigenous people for various reasons, but the story was actually told fairly well at the time since it has to do with a storekeeper and his wife that are trusted with a tribe's sacred treasures until the tribe can pay off their debt. Unfortunately, the storekeeper and his wife are killed and the treasures are taken by Sam and his buddies, who are sick and tired of living in squalor. That's when the wooden statue, Old Chief Woodn'head, comes to life and hunts down the perpetrators, killing Fatstuff first, then the rich white boy Andy, and then finally Sam. Sam's fate is pretty gruesome even though it's not shown since the next day the chief is back in his customary spot with bright new warpaint on his cheeks and Sam's scalp hanging from his wooden grip. As you can guess, Sam was a bit of an arrogant and very bad person that didn't care who he hurt so long as he got what he wanted. People might take issue with this story, but it was a classic horror/revenge tale all the same.
He's shown up in other movies such as Fight Club and Men of Honor as well, though in Men of Honor he started out as a huge jerk with a serious racist streak, but he had a change of heart as he went through a redemption arc after learning to respect his fellow diver, Carl Brashear. Whether this really happened or not is hard to say since Men of Honor is based on a true story, but the fact is that Holt is able to play a truly despicable human being, but his redemption is usually great to watch since he can make a person believe that he's genuinely sorry for what he's said and done, and is willing to make amends for it, or at least act like a decent human being. He's been in several other movies such as Three Kings with George Clooney and Ice Cube and the Jack Reacher sequel, but one of his truly despicable roles came in the movie Shot Caller with Nikolaj Costa-Waldau, where he played Jerry "The Beast" Manning, a white supremacist leader that gave orders from his prison cell and made it clear that they ran the show in the prisons, not the authorities. It was pretty easy to hate this guy since he didn't have an ounce of give to his character and wasn't above threatening a person's family to make it clear that he was displeased with someone. But that's Holt's talent, since it's so easy to pigeonhole the guy with certain roles he goes all in and makes it known that he's playing the character to the bitter end and will make people believe that this character is either someone that can be relied on or someone that people would love to see suffer just because of who and what they are.
That's the mark of a great actor, and it's why learning and remembering his name is worth the small effort it would take.