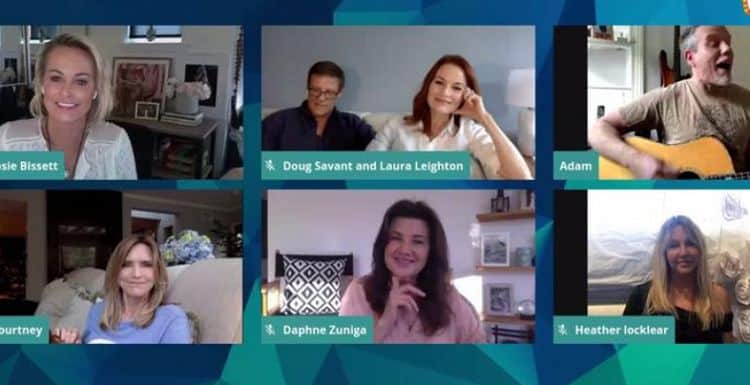 It's kind of easy to think that it might have been better if just one of these guys had been talking the whole time instead of the two of them going back and forth trying to talk over or past one another in order to get out the point that they're raising money for a fund that is designed to help out those actors and workers behind the screen that might need a little extra something now that Hollywood has been shut down for a while. Money to pay the rent, the bills, and simply buy groceries or pay for health insurance would be a serious boost to a lot of people in the film industry right now since things have been getting pretty rough for those that don't have the means to 'get bored' in a luxurious home with plenty still in the bank to live on. The act of bringing the Melrose Place cast back together for an online reunion was to give fans that wanted to donate a special thank you for helping to support those in need and of course to talk about the show and their experiences from back in the day. Those that remember Melrose Place probably have fond memories of the show since it was one of the more popular programs on TV at that time and it was also one of those that was bound to be talked about for some time after the fact. Kevin Burwick of MovieWeb has more to say on this.
The idea that so many stars are coming to the fore at this time is great when it's used for the betterment and aid of others since as the two hosts in the video announce there are plenty of individuals out there that are feeling the pinch right now since the number of people that are out of work at this time thanks to the pandemic is simply insane. That cast members from old shows are coming together for the entertainment of the fans is something special since it gives fans something to talk about and gives them stories and memories that they might have forgotten or never knew in the first place. There have been a lot of former cast members congregating in online chats for a good cause and it's heartwarming to see this since there's just too much to be depressed and worried over these days since COVID-19 is still a very real issue and the quarantine is driving people a bit batty. Getting to see some of their favorite celebrities front and center as the celebs try to remain relevant and do some good with this time was bound to happen since no matter what I or anyone else wants to say about celebrities in this time there are plenty of them that are trying to help and that are doing their best to reach out to the fans.
There might even be talks of another Melrose Place reunion once the threat of the pandemic has passed or has at least lessened, but that's something that will have to wait along with many other things considering the current circumstances. In a way some people might hope that it doesn't come back if only because they want to remember the cast as they were and not bother trying to welcome a new lineup since that would be the goal in a big way, to continue the show using new and younger cast members. Others would surely embrace it since that appears to be the thing right now, taking older shows and movies and revamping them so as to appease fans from different generations while taking something that was once popular and repackaging it so as to skip a lot of the work of coming up with something new. There are some folks that would insist that it's not that easy, and it might not be, but a lot of the innovative process would still be gone and it would be not unlike knocking the dust off of something, polishing it to a high sheen, and then putting it in a new box so that people get excited for something different and innovative before they realize it's basically the same show with an update or two added to it, kind of like Saved by the Bell could be considered. Of course there are plenty of differences that would occur, but in a sense, some shows just need to be left alone finally and nostalgia needs to be allowed to take hold and left where it is.
A few of the actors would likely enjoy coming back and taking up their old roles again as it would mean a possible return to prominence for a few of them, but whether or not that will ever happen is kind of up in the air and sounds more like rumor than anything. At this point it's just fun for fans to see some of their favorite actors once again, especially when it's for a good cause. Evan Real of The Hollywood Reporter had more to say about this topic.