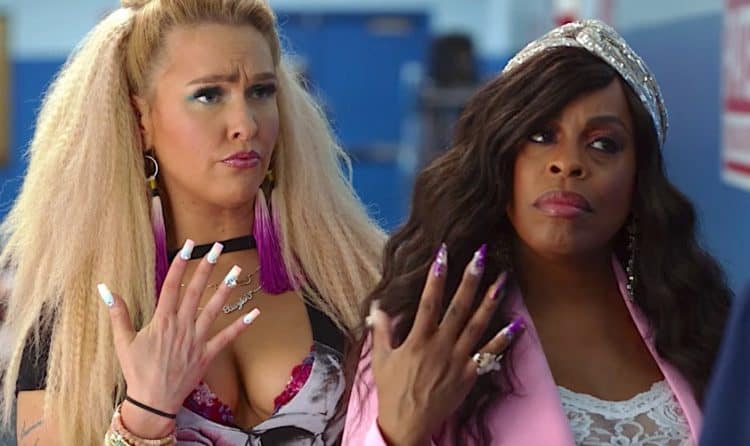 TNT's unmissable comedy-drama, Claws, revolves around a group of manicurists at the Nail Artisans salon of Manatee County. Led by salon owner, Desna Simms, the group embark on a life of crime when they begin laundering money for a pain clinic owned by the wealthy Husser family. The show follows Desna and her cohorts as they attempt to build their own criminal empire and a better life for themselves in the process. Now in its third season, the popularity of the nail-centric crime series shows no signs of waning, something which can be attributed in no small part to the talents of its superlative cast. To meet the faces behind your favorite characters, read on to find out more about the cast of Claws season 3.
Niecy Nash as Desna
Playing the central character of Desna Simms, the owner of Nail Artisans and the principal leader of the group's activities, is Niecy Nash. The seasoned actress is known for her comedic performances in shows such as Reno 911! (2003-2009), Getting On (2013-2015) and Scream Queens (2015-2016). Her talents haven't gone unrecognized: in 2010, she won an Emmy Award for her work on Style Network's Clean House. Her portrayal of Nurse Denise "DiDi" Ortley in Getting On, meanwhile, won her nominations for two Primetime Emmy Awards and a Critics' Choice Television Award, while her performance in Claws has already seen her claim a Satellite Award for Best Actress.
Carrie Preston as Polly
Taking on the role of Polly, a professional con artist and Desna's fiercest ally, is Carrie Preston. Prior to Claws, Preston was best known for her roles in such TV series as True Blood, Person of Interest, Crowded, The Following, The Good Wife, and The Good Fight. Preston has been the recipient of multiple honors over the course of her career, including a Primetime Emmy Award for The Good Wife and a FilmOut San Diego, US Award for Ready? Ok!
Judy Reyes as Annalise
Annalise Zayas, the salon's openly gay lookout and doorman, is played by Judy Reyes. In addition to Claws, Reyes has seen success as Carla Espinosa in the NBC/ABC sitcom Scrubs (2001-2009), as Zoila Diaz in the ABC comedy-drama Devious Maids, and as Eva on HBO's Succession.
Jenn Lyon as Jennifer
Taking on the role of Jennifer Husser, Desna's oldest friend and right-hand woman, is Jenn Lyon. After beginning her career in the comedy sketch troupe, POYKPAC, Lyon made her move to TV in the comedy series, Good Morning, Internet!. She's also enjoyed success with the recurring role of Lindsey Salazar in the FX series Justified, and as Mackenzie Bradford-Lopez in the network's sitcom Saint George.
Karrueche Tran as Virginia
Karrueche Tran plays Virginia Loc, a former stripper who takes over the running of the salon on Desna's behalf. Tran has previously starred as Vivian Johnson in the web series, The Bay, and has featured in the Shark Attack series of films. She's also achieved recognition for her work as a model and TV host, although is perhaps best known as the ex-girlfriend of hip-hop's bad boy, Chris Brown.
Jack Kesy as Roller
Taking on the role of Dwayne "Roller" Husser, a powerful drug dealer and Desna's on-off boyfriend, is Jack Kesy. Prior to landing Claws, Kesy was best known for his roles in 12 Strong (2018), Baywatch (2017), and Death Wish (2018).
Kevin Rankin as Bryce
Jennifer's husband and Roller's brother, Bryce Husser, is played by Kevin Rankin. Rankin's career began in 1997 when he landed a minor role in The Apostle. Since then, he's seen success with such shows as Buffy the Vampire Slayer (2000), Spin City (2001), Without a Trace (2004), Grey's Anatomy (2007), and Lost (2009). In 2010, he won a recurring role on Justified, playing Derek "Devil" Lennox, and in 2012, he joined the cast of Breaking Bad for a 7-episode run as Kenny. On the home front, Rankin is married to actress Jill Farley, with whom he shares a child.
Jason Antoon as Dr. Ken Brickman
Starring as Dr. Ken Brickman, a dubious medical practitioner/ police informant, is Jason Antoon. The actor, who is of Lebanese descent, has built a successful career across both TV and stage: his TV credits include Modern Family, Sex and The City, Lipstick Jungle, The Big C, Fresh off the Boat, and Famous in Love, while his stage work includes an award-winning turn in the 2000 Tony Award-winning musical, Contact.
Harold Perrineau as Dean Simms
The character of Dean Simms, Desna's autistic brother who proves his loyalty to his sister when he kills the Russian Mafia boss, Zlata, is played by Harold Perrineau. Prior to his casting in Claws, Perrineau was best known as Damon Pope in the FX series, Sons of Anarchy, and as homicide detective Leo Banks in the ABC comedy-drama series, The Unusuals. He's also worked extensively in film, with notable roles including the part of Stephen in 1997's The Edge, Flynn in 2007's 28 Weeks Later, Santana in 2017's I'm Not Here, and Link in The Matrix series of films. Outside of acting, Perrineau has built a sideline in music- his debut single, 2007's Stay Strong, has been followed with numerous performances at the likes of Los Angles club, The Mint, and appearances in the music videos of artists such as MKTO and J. Cole.
Dean Norris as Uncle Daddy
Dean Norris plays Clay "Uncle Daddy" Husser, the merciless head of the Husser crime syndicate. Norris began his career in TV in the youth program, Beyond Our Control, and has subsequently enjoyed success in the likes of Six Feet Under (2001), Breaking Bad (2008-2013), The Big Bang Theory (2016-2018), Body of Proof (2012) and Scandal (2017-2018). He's also enjoyed a rich career in film, taking in such movies as Lethal Weapon 2 (1989), The Cell (2000), Little Miss Sunshine (2006), and Sons of Liberty (2015).
Evan Daigle as Toby Evans
Featuring as Toby Evans, Uncle Daddy's "boy toy", is Evan Daigle. According to his IMDB profile, Daigle honed his craft at the Loyola University New Orleans, where he studied Acting and Mass Communications.
Suleka Mathew as Arlene Branch
Taking on the role of Arlene Branch, Annalise's former girlfriend and a player in the sting operation against Desna, is Canadian actress Suleka "Sue" Mathew. Mathew has been active in the industry since landing the role of Valerie in 21 Jump Street in 1988. Since then, she's starred in two seasons of the ABC sitcom, Men in Trees, and seen success in films such as Life Or Something Like It (2002), Touch of Pink (2004), and Midnight Sun (2018).
Tell us what's wrong with this post? How could we improve it? :)
Let us improve this post!