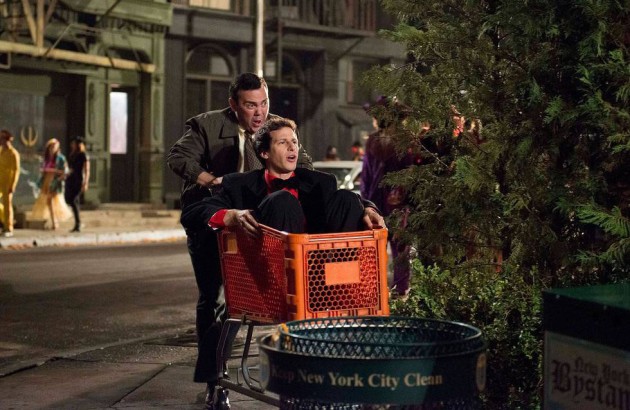 With a new time slot on Sunday nights, bringing in viewers who may not have watched the sophomore comedy during its first year, Brooklyn Nine-Nine needed to prove that it could hold its own in the Sunday night FOX lineup. And that's exactly what the show has done. The second season so far has brought plenty of laughs and has done a great job in exploring the different relationships amongst the characters. There isn't a single weak link in the cast which is rare for a show with so many characters. No other comedy on television right now is as consistently funny as Brooklyn Nine-Nine, proving that FOX made a smart decision moving it to Sunday nights, allowing more people to discover this brilliant comedy.
A lot of shows run into the problem of finding a pairing that works and sticking with them instead of allowing those characters to interact with other people. This is one of the reasons why The Mindy Project hasn't worked as well this season–it's essentially become the Mindy and Danny Show. This ultimately ends up hurting a show for many reasons. One, it causes viewers to lose interest in the pairing that they used to love so much. And two, it takes away from the development of the individual characters; they get stuck in one place and don't have as many opportunities to grow which leads to less interesting television.
All of this is to say that Brooklyn Nine-Nine has been able to almost completely avoid this problem that so often plagues shows. Every character is given the chance to interact and form friendships with every other character, making for a more well-rounded show. From Charles and Gina to Rosa and Holt, characters who may not seem like they would fit together are allowed to have hilarious interactions with each other.
While some may argue that the shows leans too heavily on the Jake/Charles friendship, they've been able to give those characters a lot more to do this season, so that by the mid-season finale, when they were the focus of the episode, it didn't seem too overdone. Instead of being bored by their plotline, because we had lost interest in their friendship, we were heavily invested. Because of this, the ending had more of an impact, as we were happy to see them come out of the stakeout with an even stronger friendship.
The Jake and Rosa pairing has also been especially interesting to explore this season, as we've seen their friendship grow through the cases they've worked together. The task force Rosa was in charge of tested their friendship, ultimately making it stronger, as Jake put Rosa's goals ahead of his own. Given the chance to either catch the Pontiac Bandit or help Rosa succeed with the task force, he chose to help Rosa, cementing their friendship and even causing Rosa, a normally abrasive character, to smile.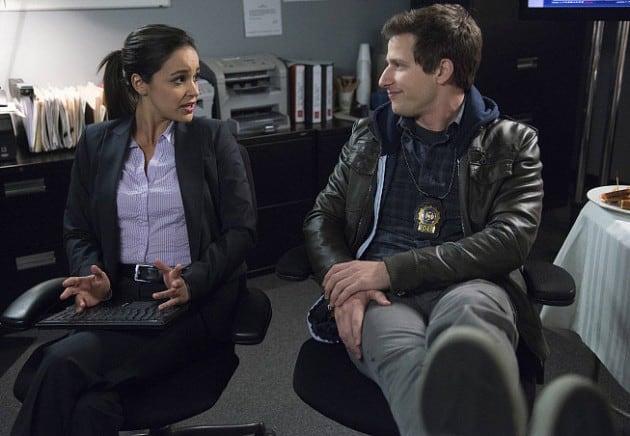 Brooklyn Nine-Nine has also averted the trap many shows fall into with their romantic pairings. Instead of forcing the Jake/Amy relationship on us as viewers, they've allowed them to express their feelings yet remain good friends without anything being awkward. This has provided many laughs, most notably when Jake invited Teddy to a romantic B&B, not knowing that Amy was planning on breaking up with him. This led to Amy admitting that she still has feelings for Jake but instead of making a big deal out of it, Jake chose to stay with Sophia. His decision doesn't have any negative effects on his friendship with Amy while also not shutting the door completely on a possible romantic relationship between them in the future.
While they've succeeded in pairing so many unlikely characters together, there are a few things Brooklyn Nine-Nine could do better. No particular pairing seems overdone on this show but the plotline of Amy attempting to get on Holt's good side could be used more sparingly. Amy is a great character and could be doing a lot more than always flattering Holt in attempt to advance her career. On the other hand, the show might benefit from doing more with Jake and Gina's friendship. It was revealed in the first season that they've been good friends since childhood yet we never really see that on screen. Their dynamic is fun to watch and the show would benefit from exploring it more. With just a few minor adjustments, Brooklyn Nine-Nine could easily become the best comedy on television right now.
Photos via FOX