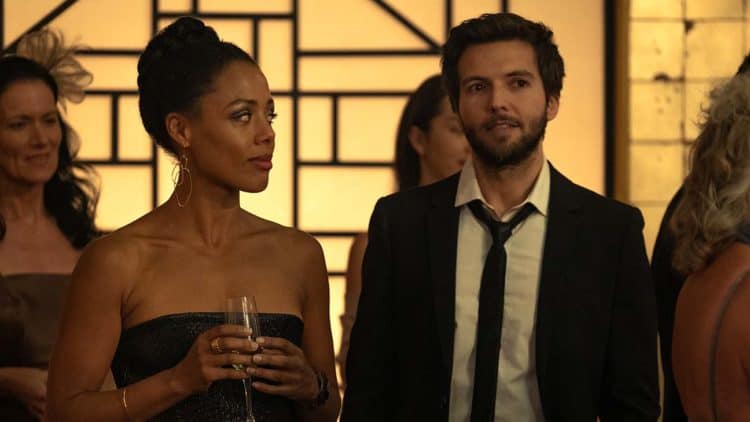 The name Nina Toussaint-White is one you should probably get used to seeing. The British actress is well on her way to becoming an international star and earning a spot at the top of lots of people's list of favorite actresses. With 15 years of professional acting experience under her belt, Nina has built a strong resume that includes mostly TV roles. She is probably most recognizable from her roles in shows like The Feed and The Sister. Most recently, she had a small role in a TV series called Witness No. 3. Although we don't know exactly when we'll see her on our screens again, we know it won't be too far in the future. Keep reading to learn 10 things you didn't know about Nina Toussaint-White.
1. She's Always Loved Performing
Nina Toussaint-White has loved acting for as long as she can remember. During an interview with Hunger TV, she said,
"Ever since I can remember I've loved to perform, dressing up and putting on mini shows for the family. I went to a few drama clubs from the ages of about 8 to 11, but once early puberty hit, my interest for most things disappeared. There were a few teenage years where I was I felt a bit lost and angry. I started to hang around with the wrong crowd and I lacked any drive or ambition to do or seek anything that wasn't directly in front of me.

For A-levels, I took up the only lessons I believed I had the slightest chance of gaining any good results in: Art and Drama. It was here, I guess, you could say that I found the acting bug and have never looked back."
Nina went on to say that she truly believes that acting saved her from going down a very different path in life.
2. She Loves Spending Time Outdoors
Over the last few years, Nina's career has really started to take off. While that's a good thing, it also means that her schedule can get pretty hectic and she may not always have time to do other things she enjoys. When she does get a break, however, she enjoys spending time out in nature. Being outdoors is the perfect way for Nina to decompress and take her mind off of the stress of the entertainment industry. Some of her favorite outdoor activities include hiking, swimming, and bike riding.
3. She's A Formally Trained Actress
Once Nina decided that acting was definitely what she wanted to do, she began focusing all of her energy on sharpening her skills. After all, the acting world can be very competitive so it's important for people to do what they can to give themselves an advantage. Nina studied acting at the Italia Conti Academy of Theatre Arts in London. The school has a long history of producing very talented actors. In addition to Nina, some of the school's most notable alumni include Russell Brand and Mimi Keene. While some people think that attending an acting program is a waste of time and money, that hasn't been the case for Nina. The lessons that Nina learned while in school have certainly come in handy over the course of her career.
4. She's Happily Married
Nina's career isn't the only area of her life where she's found happiness and success. Things have also gone well in her personal life. Nina and her husband, Joey Ellis, have been married since April of 2018. Joey doesn't seem to work in the entertainment industry. From what we can tell, the couple has one child together. Spending time with her family is one of Nina's favorite things to do and it's clear that nothing means more to her than her loved ones.
5. She Enjoys Taking Pictures
Being in front of the camera has been Nina's main focus for many years, but she has also gotten to explore what it's like to be on the other side. Although she may not think of herself as a photographer, her Instagram profile reveals that taking pictures is something that she really likes to do. She is a natural when it comes to knowing exactly how to capture the most beautiful moments. She often shares her photos on Instagram and they seem to be a big hit with her followers. Her love for photography pairs well with her love for being outdoors and it's a great way for her to express herself.
6. She Was In A Video Game
Nina has gotten some very cool opportunities during her career, and one of them was the chance to join the Star Wars universe. In 2017, she did some voice work for the video game Star Wars: Battlefront II. At the moment, this is her only voice acting credit but it'll be interesting to see if she decides to do more voice acting in the future. The fact that Nina is so versatile is a huge asset. As mentioned before, acting is a very competitive space. Being able to switch things up and do different things can go a long way when it comes to opening doors for new projects.
7. She's A Fan of The Office
There are lots of actors who don't enjoy watching TV during their time off, but Nina isn't one of them. While she may not be a full-fledged TV junkie, there are some things that she likes to watch and The Office is one of them. The Office is arguably one of the most memorable shows from the 2000s and 2010s. Despite being British, Nina is a big fan of the American version of the show. There are lots of people, however, who prefer the original British version of the show. In fact, there have been numerous think pieces on why the original is better. Either way, I think we can all agree that there's more than enough room for both shows (and their fans) to coexist peacefully.
8. Michaela Coel Is One Of Her Inspirations
At this point in her career, I think it's safe to say that Nina has become an inspiration to many people. However, there are also people who still inspire and Michaela Coel is pretty high up on the list. Nina told Square Mile, "…I'm fascinated by Michaela Coel, who has obviously taken the world by storm with her groundbreaking series How I May Destroy You. The show was out of this world, tackling so many important topics that are hardly ever talked about, let alone put in a TV show. I don't know her personally but I'm inspired by her unashamed openness and truth telling, her bravery and willingness to bare all in her work and in her interviews."
For those who aren't familiar with Coel, she is a multitalented actress, singer, writer, director, and producer. She created the Netflix series Chewing Gum as well as the HBO series I May Destroy You. Her work has won several awards over the years including a Primetime Emmy for Outstanding Writing for a Limited Series, Movie, or Dramatic Special. Maybe one day, the two will get the chance to work together.
9. She Likes to Travel
Nina has an adventurous side and traveling is one of her favorite ways to let it show. She has been fortunate to do a good amount of traveling over the years. Some of the countries she's visited include the United States and India. She particularly enjoys places that allow her to escape from the busy city life in London so that she can enjoy some peace and quiet. In the years to come, Nina will be able to add even more awesome destinations to the list of places she's been. While talking to Square Mile, she shared that if she could afford anything she wanted, buying a vacation house would be at the top of her list. As you can imagine, her love for photography means that she has lots of great pictures from all of her trips.
10. She's A Big Fan of Black Panther
When Black Panther was released in 2018, people across the world couldn't contain their excitement. The movie was especially meaningful for Black people because it depicted something that isn't typically seen on the big screen. Nina Toussaint-White is among those who enjoyed the film and found it to be incredibly inspirational. While talking to Hunger TV, Nina said,
"Honestly, my cinema night viewing would not normally have been a superhero movie and, as much as I'd love to star in one myself (a little side note to any casting director reading this), the whole superhero genre isn't really for me. But, after watching Black Panther, and seeing strong Black women playing the lead roles, it really impacted me.

When I walked out of the cinema after Black Panther, I just felt empowered. I felt I could take on any role and had a completely different view of what I could achieve, and the roles that were "right" for me had completely changed."
Not long after seeing the movie, Nina earned her role in the Amazon Prime series The Feed. To date, this is probably the biggest role she's had so far.
Tell us what's wrong with this post? How could we improve it? :)
Let us improve this post!