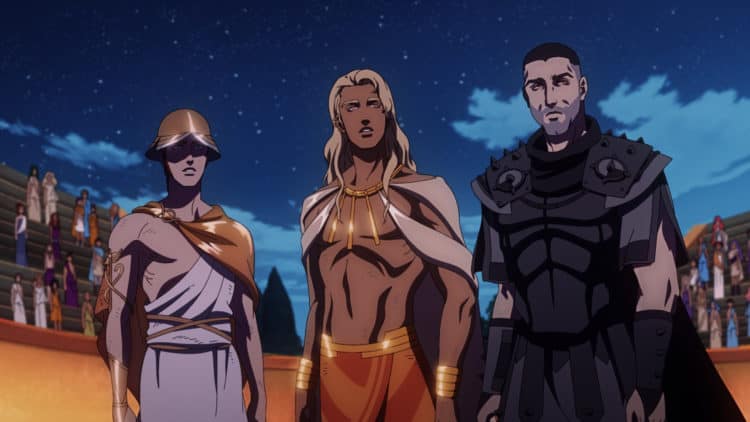 It's hard not to connect between the modern obsession of society with superheroes and the old myths of the Greeks. They both deal with characters that fight those who would like to destroy humanity. Blood of Zeus has proved that there are still other new and exciting stories about giants, gods, and demigods like Hera and Zeus. These characters are not similar to the ones you saw in Disney's Hercules. There will be surprises along the way that even the expert classicists will be in for a ride. Blood of Zeus was a hit when it first appeared on Netflix in October 2020. Currently, the first season is rated 100% on Rotten Tomatoes. So it is not surprising that Netflix quickly ordered season 2. Those who have watched the series will notice how the season one finale led to significant developments. Besides knowing season 2 of Blood of Zeus is happening, here is what we know so far.
Blood of Zeus Season 2 Release Date
The original title of Blood of Zeus was Gods & Heroes. It was announced for the first time in March 2019 by The Hollywood Reporter and released almost two years later. Thus, most people assumed season 2 would use the exact timetable. That logic makes sense for more episodes in the early months of 2022. It seems accelerating a new show takes longer compared to producing another season. There is a possibility to see season 2 earlier, considering Netflix has given a confident renewal. However, the question about the COVID-19 pandemic impact will always arise. There is a chance that the outbreak obstructed season 2. It is also possible that season 2 could be facing the same challenge. How busy Powerhouse Animation, the production company, will be in the future also matters. The company is behind the hit of Netflix's Castlevania, with the renewal of its fourth season.
The Cast for Blood of Zeus Season 2
There is no official announcement of which voice actors will join in the rest of the show. Fans expect the last season's favorites to return. They include Hermes (Matthew Mercer), Apollo (Adam Croasdell), Seraphim (Elias Toufexis), Alexia (Jesicca Henwick), and Heron (Derek Phillips). In the season 1 finale, Jason O'Mara (Zeus) protects his wife, Claudia Christian (Hera), by sacrificing his life. The last time we saw Hera, she had terrible injuries. She escaped; therefore, we expect her to plot an attack. But in a universe with immortal gods and magic everywhere, resurrection is possible. It is enough to say that fans should not give up on the previous characters just yet. Fred Tatasciore (Hades) has briefly appeared in season 1. It seems that in season 2, the primary enemy will be the god of the underworld. That means that Tatasciore is in for a more significant role.
The plot of Blood of Zeus Season 2
Season 1 has made many doors open. According to Vlas Parlapanides and Charles, the show creators, season 2 will use what was previously there. In an interview with Inverse, they said they are working hard on the new episodes. "Season 1 follows Heron and Seraphim, and season 2 is the continuation of their stories. We have outlined season 2 in 20 pages but focuses more on Zeus, Poseidon, and Hades. The set-ups in season 2 comprise of events in season 1. We go back to the stories of the brothers who divided the world's three realms," they stated. The news sounds great for fans who would like to see Jason O'Mara come back as the god of sky and thunder. From there, things now get better. They mentioned the Parlapanides brothers much later and their plan for having five seasons. As long as Netflix keeps picking it, then the series will take it. Greek mythology is many, hence exciting to know where Blood of Zeus is going.
Theories About Blood of Zeus Season 2
Poseidon and Hades will play more prominent roles in season 2. It is because, for the first time, they were committed to honored cameos. We can get a vast history from there, and the writers have disapproved the myths. It is not the case for Hesiod's Theogony, but we know what season 2 has in store for us. Beginners will find Mount Olympus with no Hera and Zeus. That means there will be a power vacuum where one will look to gain control. Probably it is Hade's and Seraphim's ultimate plan to run away from his duties as the underworld ruler and experience the sunshine. Given how brave Herod is when fighting the giants, he met Olympians' new leader as the prime contender. Some characters would rather offend a demigod than an experienced god assuming power.
The plot is crucial for Hera's return. Though weakened, she has not given up yet. It is an exciting scenario where the gods appoint a new ruler, and Hera returns to claim her position. This series shows how the Greek gods can be. However, there are many ways they can play their conflicts in the future. Netflix viewers watch the Blood of Zeus series in droves, a show from Powerhouse Animation studio in Austin, Texas. The show combines the style of traditional anime with the mythology of ancient Greek. The combo is famous since the show has been among the top ten series on Netflix since it premiered. If looking for something similar, then try Castlevania.
Tell us what's wrong with this post? How could we improve it? :)
Let us improve this post!