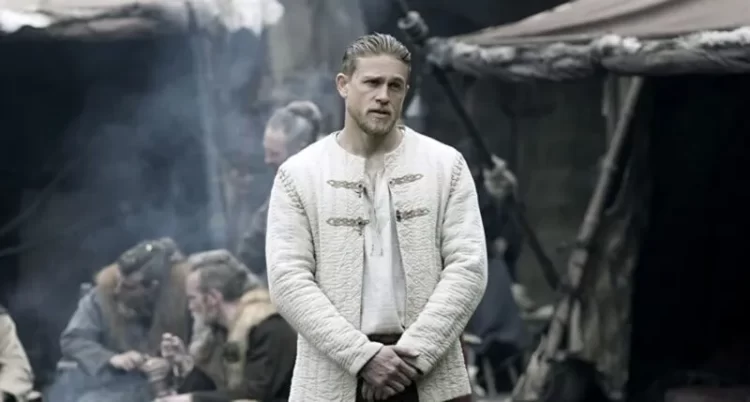 A drama-thriller set to premiere on Apple TV+ promises a list of A-list actors. The title of the show is Shantaram, and it is based on a novel of the same name by writer and former convict Gregory David Roberts. Here is a description of the plot of the series, according to Deadline: "Shot across two continents, Shantaram tells the story of Lin (Hunnam), a man on the run from an Australian prison looking to get lost in the teeming city of Bombay. Cut off from family and friends by distance and fate, he finds a new life in the slums, bars and underworld of India." Veteran TV actors are expected to star in this promising TV series. If you want to learn more about the actors set to appear in this show, read ahead. Here are the actors appearing in the upcoming Apple TV+ series Shantaram.
Charlie Hunnam
Charlie Hunnam will be starring in Shantaram as Lin. Hunnam is an actor who is best known for his role as Jackson "Jax" Teller on the FX series Sons of Anarchy. He was born in Newcastle upon Tyne, England, and began his acting career in 2000 with a guest appearance on the UK television series Byker Grove. He has since appeared in a number of films and television shows, including Queer as Folk, Cold Mountain, Children of Men, and Pacific Rim. He currently resides in Los Angeles, California.
Richard Roxburgh
Richard Roxburgh will be playing Detective Sergeant Marty Nightingalem in Shantaram. Roxburgh is an Australian actor who has appeared in a wide range of film and television roles. He is perhaps best known for his portrayal of Otto in the comedy series Strictly Ballroom and for his role in the Moulin Rouge! film. Roxburgh has also starred in a number of successful films, including Mission: Impossible II, Van Helsing, and The Great Gatsby. In addition to his work in front of the camera, he has also directed a number of stage productions. Roxburgh is a highly respected actor who has enjoyed a long and successful career in both Australia and Hollywood.
Radhika Apte
Indian actor Radhika Apte has been tapped to appear in the upcoming sereis Shantaram, portraying Kavita. Apte is best known for her work in Hindi, Tamil, and Telugu language films. Her breakout role came in the 2015 Tamil film Kabali, opposite Rajinikanth. She has since gone on to star in several high-profile Hindi films, including Pad Man (2018) and Baazaar (2018). Apte has also received critical acclaim for her work in independent films such as Phobia (2016) and Ahalya (2015). In addition to her work in film, Apte has also appeared in a number of television shows and web series, including Sacred Games (2018) and Ghoul (2018). She will next be seen in the upcoming Netflix film Raat Akeli Hai (2020).
Alexander Siddig
Alexander Siddig will be playing a role in Shantaram as Khader Khan. Sudanese-born English actor Siddig is best known for his roles as Dr. Julian Bashir in the television series Star Trek: Deep Space Nine, Hamri Al-Assad in the sixth season of the series 24, and Doran Martell in the Game of Thrones series. He has also appeared in such films as Syriana and Inescapable. Siddig was born in Sudan to an English father and a Sudanese mother. He later attended the London Academy of Music in London.
David Field
David Field plays the role of Wally Nightingale in the upcoming TV series Shantaram. Born in Sydney, Australia in 1965, David Field is an actor who has appeared in numerous film and television roles. He is perhaps best-known for his work in the films Chopper, Two Hands, and Gettin' Square. In 2009, Field made his directorial debut with The Combination, a film about an Australian-Lebanese teen who is caught between the rival worlds of his family and friends. In addition to his work as a director, he has also appeared in advertisements for the milk brand Oak.
Fayssal Bazzi
Fayssal Bazzi is set to play Abdullah Taheri in the upcoming TV series Shantaram. Fayssal Bazzi is an Australian actor who has appeared in a number of film and television roles. He has appeared in shows like Stateless, Mr Inbetween, Rake, The Letdown, Wake in Fright, Top of the Lake, and Crownies. On the big screen, he's performed in The Merger, Peter Rabbit, 6 Days, Down Under, Cedar Boys, and Emulsion. His appearance in Stateless remains to be his most prominent one. He talked to Entertainment Weekly about taking on the role and how familiar he is with the refugee situation: "Oh, I was very familiar with everything that was happening because I come from a theater background and in the early 2000s, when we did have on-shore detention, I was working on a play with someone that was in a detention center here. So I was visiting them and getting their story to be able to put it on the stage. Also, I was born in Lebanon; I'm half Lebanese, half Syrian. We immigrated here from the war in Lebanon, so a lot of what I based Ameer on was things that I saw from my parents trying to rebuild our family. What I ultimately wanted to bring with Ameer…I didn't want to slam the audience with a lot of foreign expectations. I just wanted to show that he was a father looking for the best for his family and no matter what anyone's background is based on, they can relate to that. I was reading a study the other day about the mental health issues of people that have come back to Australia and have to quarantine in a hotel for two weeks. You're not allowed to leave that room. There's a study on the decline in mental health of the people that have had to do that. We have refugees who've been stuck for seven years. We're touching on this because white people are complaining about two weeks in a hotel. What kind of life are we living here? We had to actually do this study to go, "Oh, it does have a bad effect on people's mental health."
Antonia Desplat
Antonia Desplat stars in Shantaram as Karla Saarenen. The young actress is described by IMDb as follows: "Antonia Desplat was born on September 28, 1994 in France. She is an actress and producer, known for Held for a moment (2019), The French Dispatch (2021) and Hostage (2005)."