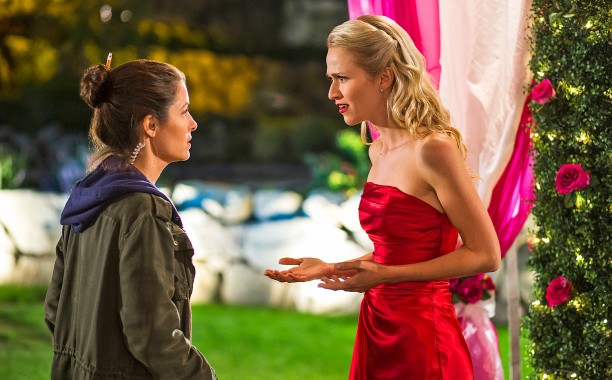 Unlike most second episodes of series, "Relapse" is not an hour that dwells on what was established in the pilot; there are certainly moments where it feels like UnREAL is re-stating its philosophies on reality television and the people involved in it, but these are more byproducts of a show with such a strong sense of identity early on. "Relapse," like the pilot, remains a scathing, slightly satirical look at the world of The Bachelor and reality dating shows – and in the process, continues to build out its main characters, proving that the drama off the screens of Everlasting is as compelling as what is being massaged into the on-screen "reality"; and for a show only in its second hour, that's a fairly impressive feat.
"Relapse" stems from one single bit of conflict: Rachel's old roommate shows up the day after the first bracelets (think roses) are given out, demanding $3900 in back rent and threatening to throw the contents of her laptop up on the internet for the world to see (before selling the laptop; this girl is cold). Not only does this give great breadth to the screwed-up life Rachel is trying to reintegrate herself into, but it also provides "Relapse" with a dramatic propulsion it would otherwise lack behind the scenes, as most scenes of "Relapse" are spent building up potential character conflicts for later. Rachel's ticking time bomb gives the episode a relentless momentum, especially when a potential cash source reveals itself in the form of a villain-creating contest held by Quinn, desperate to find someone to fill out Brittany's pre-defined villain role, after Rachel convinced Adam to vote her off.
This contest provides an avenue to establish conflict (like that between Rachel and Shia) and to provide the episode's particular critique, that of the "character creation" on reality shows. The most disturbing part is probably Dr. Grace, who feeds information from therapy sessions to producers to give them juicy tidbits; but is that grosser than how Rachel and company manipulate people into creating fake personas for themselves? There's the classic "Omarosa" debate with two black women (egged on by a gay black producer for one to embrace the role, which has interesting racial connotations all to itself), Shia convincing Pepper to insult other women (again, turning women against each other to reduce their roles as humans, and transform them into marketable, sexual objects) – and the centerpiece, Rachel manipulating Anna's sadness over her father's sickness into the ultimate "crazy girl" villain story line.
Rachel and Anna are really the heart of the episode, and their scenes show us a great deal about Rachel and how she ended up breaking down: her job is a frightening one, one that requires the tenacity of a government interrogator, and the careful verbal touch of a serial abuser. Rachel has to get these girls to trust her, then break that trust to do her job. This is something that's not only expected but demanded by an angered Quinn, desperate to find a villain, probably because she feels like one herself (she finds out cocaine-addicted Chet has knocked up his wife, who is kind and warm to her when they cross paths). Watching Rachel struggle through that to try and maintain some semblance of privacy over her breakdown is powerful stuff; even more so when her journey turns out to be a failed one, receiving the $5000 bonus four minutes after all her information gets sent out to co-workers and put on the internet.
Cleverly, UnREAL is able to walk the fine line between judging its protagonist through karmic punishment and portraying her as a believable human being; we can see Rachel's desperation as she tries to stitch the pieces of her life and soul back together, even as her job (a job she clearly desperately needs, especially because it gives her a place to sleep for now) continues to rip it apart. It's hard to balance that; it would be easy to wonder why she doesn't just leave, if the show hadn't done such a good job conveying Rachel's personal investments in her career and the people she interacts with – and of course, the desperation that drives her to the edge of insanity on what seems to be a daily basis.
"Relapse" only reinforces the strong foundation UnREAL's pilot provided, and now with two full hours under its belt, the series can really begin to move forward, without needing to continue kicking the tires under its main characters with small scale, character defining stories (and it can stop having contestants say: "I didn't get (insert prestigious education) to come do (insert demeaning activity"). So far, UnREAL's greatest asset has been its ability to introduce nuance into very overt, one-sided points of view about reality television and those in the industry; with the outline of its world fully sketched in, I'm excited to see where this show goes over the next eight hours.
Other thoughts/observations:
– "This is what a feminist looks like" appears again, this time on a bumper sticker. Is this free advertising, or just a goofily-employed recurring device?
– The five girls picked by Adam this episode: Faith, Rose, Athena, Pepper, and Anna.
– The "other" (aka the non-stereotypical) black girl walking by and calling Jay "Uncle Tom" is impeccably timed, and hilarious.
– Great, unsettling opening montage detailing how Rachel gets ready for the day. Purell rules!
– "Leave your conscience at the door with this one" is a phrase I imagine Anna has said many, many times.
[Photo via Lifetime]