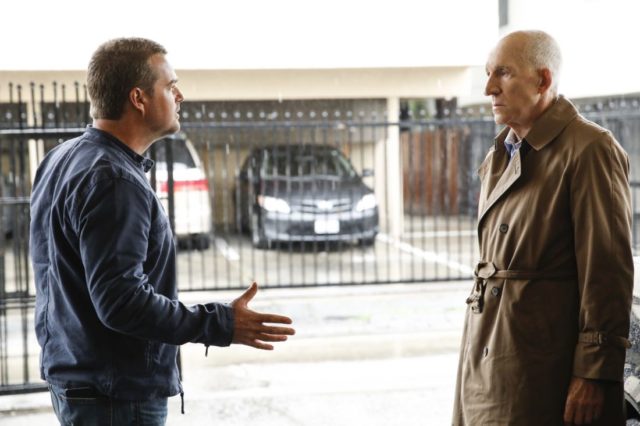 Absolutely no offense to the elderly with this week's title, since this episode shows they are anything but helpless. In fact they're in much better shape than the members of NCIS, who Nate worries about after everything they went through during the mole investigation. For certain members of the team, the events of the past year have taken their toll. The old spies and veterans on this week's NCIS: Los Angeles have no time to dwell. For the most part they've done it all, seen it all, and aren't phased by anything less than a national incident.
NCIS's first case back is the abduction of Lieutenant Leonard Miller and his grandfather Louis, who was transported to the hospital during their regular visit. When the Lieutenant is found safe and sound, NCIS rightly assumes that the retired Master Sergeant is the true center of the investigation. Kensi and Deeks go undercover at the retirement home to see who there had access to Miller's personal affairs, while Sam learns from a Secret Service agent that Miller may have been hiding a piece of currency worth over $7 million. Deeks and Kensi come upon a quirky, elderly con artist couple working their way through retirement homes across the country. After finding out about Miller's valuable coin, they teamed up with a young employee of the retirement home to sell the coin on the dark web. If you're going to hawk a possession worth millions of dollars, don't trust a stranger not to betray you and kidnap a decorated veteran. If you're going to hijack a bus you believe millions of dollar is on, don't let it be a bus full of veterans whose muscle memory is still intact. That's a surefire way be knocked unconscious before the bus makes an emergency stop. Luckily no one was killed in these exploits.
The team has to solve the life and crimes of the elderly without Callen this week. Callen is feeling the pressure from his own elder now that his father is fully present in his life. Callen lived his life without any family his entire life. Now he can barely keep track of everyone! Nikita doesn't think he or Callen should reconnect with Callen's sister Alex, but Nikita has no trouble pushing his way into his daughter's life peripherally. Thus when he thinks Alex's ex-boyfriend and the father of her child Pacey is going back to his criminal ways, Nikita's first instinct is to kidnap him! A lot of good that does since Pacey is actually a criminal informant. Once and for all, Callen is done living in limbo. So he and his father finally gain the gumption to tell Alex the truth about who they are, and she's actually receptive! Here's hoping family ties become stronger.
As for Granger, he chooses to go out his way. He's not gone yet, but he leaves the hospital with nothing but a note for Hetty. He won't spend the remainder of his life in a hospital, and he's also not one for sappy goodbyes. And so the episode ends In Loving Memory for Granger's portrayer Miguel Ferrer. He will be greatly missed, but his presence will live on.
Rest well Miguel. This place won't be the same without you.
NCIS: Los Angeles Season 8 Episode 16 Review: "Old Tricks"
Summary
Callen reunites his family while Granger bids his last goodbye to NCIS: Los Angeles.