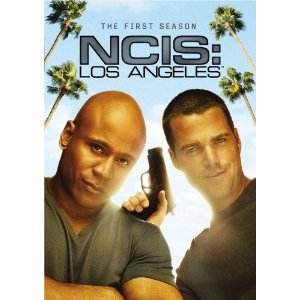 It's a spinoff of a spinoff! NCIS: Los Angeles, the spinoff of the ever-popular NCIS, which is in itself a spinoff of the long-running JAG, hit DVD at the end of August. If you're wondering what all the fuss is about, we have the breakdown for you here!
The Show
I'm sort of a probie to the JAG/NCIS universe. I only watched JAG when Steven Culp was making appearances as CIA agent Clayton Webb, and while I've seen my fair share of NCIS thanks to a crush on Mark Harmon, I'm not a truly regular viewer. When I heard that there was an NCIS spinoff, I went, "Really?" (I think I would've been even less impressed if it had debuted after we'd heard of Dick Wolf's plans for Law & Order: Los Angeles.) However, I've liked Chris O'Donnell's work since Batman Forever, and LL Cool J was great in S.W.A.T., so I agreed to give it a chance. I'm glad I did.
NCIS: Los Angeles focuses on the Office of Special Projects (OSP), the agency's undercover experts, and their various cases, a procedural somewhat in the vein of another late CBS series, Joe Pantoliano's The Handler. Instead of the smooth Pantoliano, however, fans are treated to banter between the enigmatic G. Callen (O'Donnell) and his stable, former SEAL partner Sam Hanna (LL Cool J, or James Todd Smith as it says on his birth certificate). The two genuinely have chemistry together, and are a delight to watch. Their efforts are backed up by a team that's hit and miss: relatively new agents Kensi Blye (Daniela Ruah) and Dominic Vaile (Adam Jamal Craig, who wouldn't last the season), headshrinker Nate Getz (Peter Cambor), and tech geek Eric Beal (Barrett Foa). The whole operation is overseen by Hetty Lange (Linda Hunt, replacing Louise Lombard and looking as if she's channeling Edna Mode from The Incredibles). It's the typical procedural cast where there's someone covering every possible aspect, but where some members do fade into the background by virtue of the nature of the show.
NCIS: Los Angeles lives up to the reputation of its predecessor; it certainly doesn't blemish it. It hasn't caught on to the heights of NCIS, but that show has the benefit of the presence of Mark Harmon to lead the charge. In contract, this spinoff show is very much still trying to find its footing, and its lighter tone. Where there are some good episodes (such as "Past Lives," which also features a mini-reunion of The Unit as it has two former stars of that CBS show in Audrey Marie Anderson and Michael Irby), there are also some forgettable ones, and a weak attempt to give Callen a love interest in the form of a Secret Service agent played by Castle's Monet Mazur. After all, it's just the first season. NCIS fans or fans of shows in this genre who missed this one may want to give it a look on DVD. You know exactly what you're getting on the box before you even start an episode. Whether that's a good thing or a bad thing is a matter of personal taste. For me, it isn't appointment TV, but I enjoyed watching it.
The DVDs
Packaging-wise, NCIS: LA is exactly like The Good Wife: one plastic slipcase, inside a cardboard cover, with the discs flippable on the inside and all the information that would be in a booklet written on the inside of the plastic case. Discs one and six block the information, so you'll have to remove them to read the complete episode guide. At least the font is more readable here than it was with The Good Wife. The package art itself is pretty neat; well-organized on the back with all the cast members and not too cluttered. I'm not sold on the front art, which is the same promo image used all year and still looks like someone airbrushed it too much, but it's not the worst I've ever seen, either.
There's one neat thing: the packaging was designed with the backside of the plastic case facing front, so when I pulled out the case, I was reading the back of the box. It's weird, but it's kind of nice for people to be able to see everything in the set listed right there when they remove the plastic case from the cardboard cover.
Here are your technical specs: the show is presented in 16:9 widescreen. There are three audio tracks (English Digital 5.1, English stereo, and French stereo) and four sets of subtitles (English SDH (which includes sound effects in the subtitles), English, French and Portuguese). No doubt this additional language support is probably due to the parent series' broad international appeal, and CBS is hoping the spinoff will catch on in the same way. Menus are appropriately 'cool,' with stylized graphics and music, but not too hard to navigate.
Video and audio play back fine, though you do get the usual widescreen bars here, and some of the graphics on the special features do look a bit cheesy. Still, I doubt that's something any fan of the show is going to sit around and nitpick.
The Special Features
For a first-year show, NCIS: LA has a pretty good bevy of special features. They are:
The "Legend" two-part NCIS episode that served as the backdoor pilot. If you didn't watch it, you'll get to see Louise Lombard as Lara Macy, the first head of the unit. I liked her on the show, but apparently, I was in the minority.
Commentary by EP Shane Brennan on the aired pilot, "Identity." His voice sounds kind of monotone to me, which made this one difficult to listen to.
"Inspired Television: NCIS: LA": A discussion of how the show was conceived and created. Ironically, Brennan talks about not wanting the show to be perceived as "a poor copy," which is what some early reviews of the show basically said.
"The L.A. Team: Meet the Cast and Crew": The usual 'how did the cast get cast' featurette. It's disappointing that the only reference to Adam Jamal Craig is regarding his character's apparently inevitable death (Brennan says during said segment, "It came down to, 'Which of these people am I going to kill?'" which suggests someone was always going to be killed off). He might have died, but Dom was part of the show for 13 episodes and you'd think they could focus on some of that, as well. Unsurprisingly, Craig himself is not interviewed for this piece. It also dwells a lot on Hetty, while Linda Hunt only actually talks for a brief moment about her character.
"Inside the Inner Sanctum: The Set Tour": Exactly as described.
"Do You Have A Visual? Inside the Ops Center": Like the previous, just focusing on the "Ops Center" set.
"Lights, Camera, Action: The Stunts of NCIS: LA": A closer examination of some of the stunts on the show, which is worth watching if you're a 'how does it get made' geek like me.
LL Cool J's "No Crew Is Superior" Music Video & Making-Of: If you like LL Cool J's music, you'll like this song that he wrote after meeting with real-life NCIS agents, and the new music video set to it.
CBS Promos
The Bottom Line
NCIS: Los Angeles is a good spinoff, though there are some parts of it which stretch the viewer's patience (how the heck did Callen survive being machine-gunned at close range? How long is the show going to drag out the mystery of his past? Apparently forever, as I read an article at TV Guide that said revealing his identity would hamper the series' "ultimate end"). If you like Chris O'Donnell or LL Cool J, you'll love them together here, and the DVDs come close to loaded. It's a safe bet for a fun show to jump into.