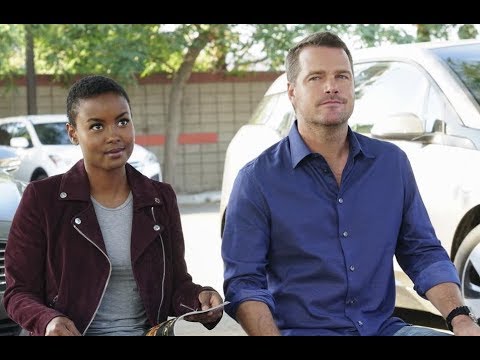 For years Agent Callen has assumed various aliases for undercover work. This includes adopting new personalities, lifestyles, and financial responsibilities. It's ironic that after years of trying to find out where he comes from, the NCIS: Los Angeles spy would have one of his fake identities stolen. When you really think about it, it's kind of hilarious. Until you realize that this could be connected to a much larger plot. Given everything the team has been through in the last year, it's a potential threat they need to take seriously.
A bad guy under surveillance named Abram Sokolov makes a call to a local investment banker named Phil Nelson, who later turns up dead from a hit-and-run. The Joint Terrorism Task Force calls NCIS because they are completely stumped as to the nature of the conversation, specifically a reference to "Mountebank". When things start happening with the stocks Nelson controlled, NCIS realizes that Sokolov is going to pull off something major that will not only put people in physical danger, it will tank the stock market. Though Callen is a little more experienced posing as the corporate, stuffy type, Mosley sends Sam undercover instead.
The reason Callen is sidelined for most of the case is that one of his aliases's identities has been stolen. Dexter Hughes, a privileged finance guy, is just one on a large list of aliases Callen has used. Still, it's a concern. So Deeks and Kensi go to see Arkady instead. As usual, Arkady is way too comfortable around NCIS. He does figure out an easy way to get to Sokolov through his sister, who happens to be Arkady's ex. For a few good bets, she gives up everything she knows, which is basically everything NCIS suspected. Sokolov's other blackmailed contact at the bank coughs up the rest. Sokolov's plan was to use Nelson's firm in a Mirror Trading scheme, which would launder money through the United States to purchase weapons to use against Ukraine. It would escalate the conflict between Russia and Ukraine, and pull the U.S. into the conflict for accidentally funding a war. With Sokolov's second pawn in on NCIS's plan, they are able to stop the gun trade and the transfer of any more funds. They don't need to capture Sokolov, they just need to stop his current operation. It's better that Agent Hidoko tagged him so that they can keep on eye on what Sokolov does from here on out.
The team worked well, and Hidoko is an asset in the field, but they are still coming up against resistance with Mosley. They won't stop digging until they find Hetty, and while we know she has spent some time in Vietnam, there is reason to believe she might be in Hawaii. There's very little peace until Hetty comes home. Mosley gets very upset when Callen doesn't tell her one of his aliases has been compromised. The difference is that if Hetty had been there, Callen wouldn't have felt the need to tell her, because she would already know. This is especially true since Callen doesn't think the situation is a big deal. Unfortunately, it's a bigger deal than Callen realizes. Callen tracks the person who stole his fake identity, and as it turns out, it's a kid! We should have known it was an 18-year old homeless teen since he was living like Callen. It is because he is so much like Callen that Callen lets him off the hook, and even lets him keep the apartment he rented under Dexter Hughes's name. This way Callen can keep an eye out for the kid the way Hetty looked out for him. Anyone who was good enough to hack Callen's identity has potential.
Is it business as usual at NCIS, or do they really need Hetty back?
NCIS: Los Angeles Season 9 Episode 5 Review: "Mountebank"
Summary
Mosley sidelines Callen on the latest NCIS: Los Angeles, but the decision proves fruitful for Callen.