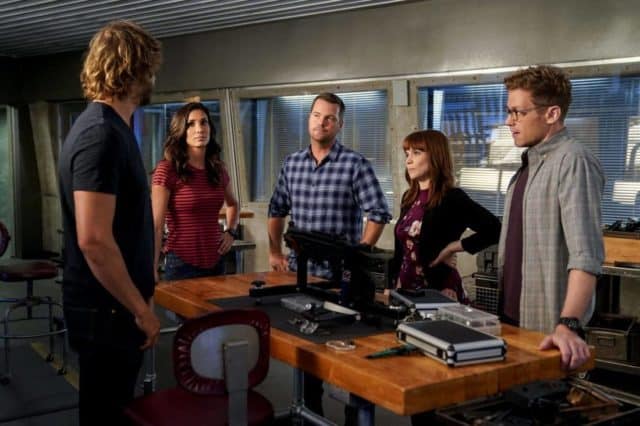 NCIS: Los Angeles is a group which handles the most intense, terrifying moments with as much levity and jokes that they can. It's how they relieve the pressure, but sometimes it isn't enough. The usually happy group of federal agents was thrown a major blow when Sam Hanna's wife was kidnapped and murdered by his greatest enemy. Losing Michelle on top of losing Owen Granger made this a terrible year for the OSP crew. Everyone needed to take a breath, but they didn't expect to come back to work with a new director.
Deeks may have influenced Sam a little too much. When Michelle was murdered, Sam lost himself. He took some time to be there for his kids, then spent the rest of the summer living at the beach. Deeks and Kensi are in the complete opposite space that Sam is. They're engaged and blissfully happy. That is until Executive Assistant Director Mosley (Nia Long) introduces herself to NCIS OSP as their new boss, and she comes with a mouthpiece.
Mosley basically fires Deeks just as they are trying to figure out if a dead federal agent's warning of a North Korean missile is legitimate. At least it gives Deeks the time to check in on his mother…and her new, ahem, trainer. Luckily Deeks isn't tortured at LAPD for very long. Kensi and Callen's search into a mild-mannered Canadian graduate student's reason for throwing the agent off a roof yields scary results which require Deeks's help. The threat of a North Korean ICBM is enough to bring Sam back too.
With the team rightfully together again, they figure out that North Korea is not actually launching a missile attack. It is actually a bait-and-switch orchestrated by Iran to start a war between the U.S. and North Korea while the Middle East does what it wants unsupervised. It's actually a pretty ingenious plan, and it might have worked if not for a couple of cowboy federal agents who get the bright idea to drive a bomb into the harbor. Mosley praises the team for a job well done, and she even welcomes Deeks and Sam back to the team. However, she intends to make sure the team tightens up its grip on protocol. That's not necessarily a bad thing, if it is done the right way.
Granger's replacement still doesn't answer the big question: Where in the world is Hetty Lange? Vietnam apparently. This confirms my belief that Hetty Lange cannot retire. She talks a big game and she can sell all her properties, but she is not physically capable of leaving the spy game behind. It's in her blood. Case in point, she submits her official retirement papers and immediately goes on a mission. She trusts her team to handle the day-to-day, but only she can potentially track down an agent who could have faked his death during the Vietnam war to cover the fact that he flipped sides. Hetty doesn't believe in ghosts, but she may end up chasing one.
Does Pat Mosley seem like a good fit to the team, or is she trying in vain to fill someone else's shoes?
Tell us what's wrong with this post? How could we improve it? :)
Let us improve this post!