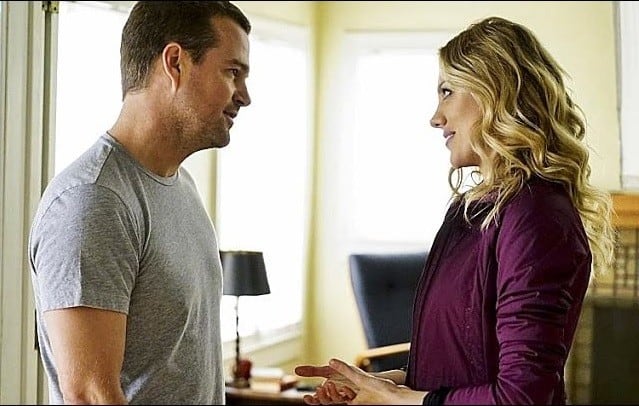 It seems right that prior to delving into a multi-episode arc storyline on NCIS: Los Angeles, the team should cover a case which unconsciously shows where everyone's heads are at, emotionally and physically. Before we dive headlong into the unraveling of the NCIS: Los Angeles mole conspiracy, we need to assess where everyone currently is in the fold. Last week's episode perfectly laid out everyone's emotional footing.
A city councilman's bodyguard is hit in a drive-by shooting and because of political ties, NCIS is called in to take over the case. As it turns out, the case has absolutely nothing to do with the councilman and everything to do with his bodyguards who work for Kulinda Tactical Services. Suspicion falls upon the guards within KTS purposely not defending their man. Because of Sam's background as a Navy Seal, he goes undercover at KTS. He immediately falls in line with the other guards, and their mission statement for being located in a low-income community for support is appealing.
Callen and Anna (now very much an item since she asks Callen to take her away for the weekend to Legoland) follow the trail of the drive-by cars. What they find is a chop shop linking Syrian terrorists to the local gangs. To make a long story short, the KTS was trying to help one of the local kids who made the mistake of borrowing money from the Syrians, and it got one of the bodyguards killed. Sam has to discourage the head of the KTS from spilling any more blood because it would dishonor the good work he and his team have been trying to do for years. Leading by example means rising above the sins of your enemies, not stooping to their level.
Nate returns to assess Kensi's state, and he doesn't like what he sees. Kensi has been focusing more on her physical recovery than her emotional one, and expecting that one would naturally fix itself following focus on the other. Kensi sees that Anna has become an asset to the team and is even more discouraged. What's worse is that she is also shutting Deeks out. It's true that Deeks and Nell have found their groove as partners, but Deeks would give anything to have his girl back personally and professionally. Because of all of this, Nate can't in good conscience recommend that Kensi is fit to be back in the field.
Granger was mysteriously absent during this episode, and for the first time the team is genuinely alarmed for their boss. Recall that they have no idea Granger is dying, and Hetty has been too busy trying to find the mole to fill them in; not that she would since Granger swore her to secrecy. It's natural to assume what Hetty is away doing, but Granger being absent so close to the deadline for NCIS to find the mole is extremely suspicious. We'll see just who knows what in the coming weeks.
Does it seem like the members of NCIS will be able to handle the truth of their lives when the time comes?
NCIS: Los Angeles Season 8 Episode 12 Review: "Kulinda"
Summary
Kensi struggles to regain her position on NCIS: Los Angeles just as the team enjoys a calm before the storm.