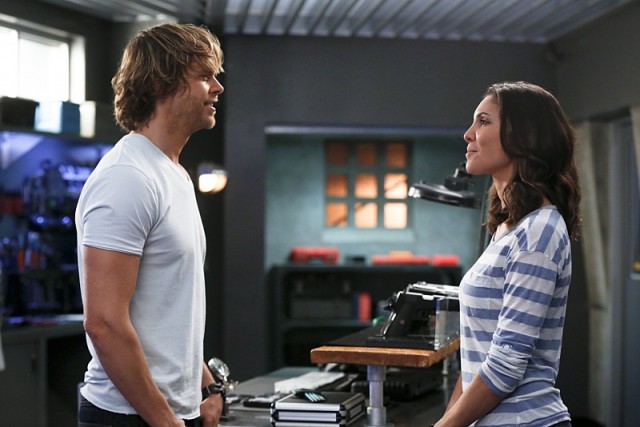 NCIS: Los Angeles's own Chris O'Donnell steps into the director's chair this week in an episode that finds Kensi and Deeks undercover inside a cult. However a simple rescue quickly becomes a very dangerous situation with no way out.
The wife of a former DOD engineer escapes the cult they were both in to warn the government about her husband's ties. The church's leader Lee Ashman seems to be manipulating the man, David Ramsey into revealing classified information about a weapon he can sell to a Chinese criminal named Dao Zhi. Kensi and Deeks are tasked with infiltrating the church's compound while the rest of the team finds a way to stop the sale with the Chinese spy.
Kensi and Deeks go undercover into the church, and the situation quickly goes from overtly creepy to blatantly dangerous. Kensi is immediately targeted by the church's leader to be vetted for a specific type of "rebirth" later. Deeks makes some headway with Ramsey when he finds him, discovering that the man escaped to the church to escape the pain of losing his brother. What little progress he does make is interrupted by the church's disturbing practices, which include nearly drowning Deeks and abusing Ramsey.
While preoccupied with trying to help Ramsey, Deeks is unable to keep track of Kensi since the church keeps men and women separated. With no communication with each other or with the outside world, they are left alone. Deeks must fight off a swarm of men to fight his way out with Ramsey, while Kensi is drugged and nearly sexually assaulted. Both fight back and escape, and Kensi is able to get a message back to NCIS that they are in dire straights. Deeks finds his girl and with Ramsey's help is able to get them all off the main compound. They get caught but are rescued by NCIS not a moment too soon. Ramsey and his wife are finally be able to be reunited in a safe environment. Looking on, Deeks expresses his gratitude that Kensi is safe and those two are able to have a reunion of their own.
What's alarming to Hetty is that this case has brought the DOJ to NCIS. The Church of the Unlocked Mind is similar to the Church of Scientology in its debriefing methods, and that includes getting people to spill private and classified information. The DOJ knows this, but because so many lawsuits flood his office and overload the system in the process, he does not want NCIS pursuing the case without concrete evidence that they will be preventing a crime. Sam, Callen, Nell and Granger are left to deal with an attorney from the DOJ watching their every move as a result. They are able to prove that several members of the church who tried to escape have gone missing, and that the sale of weaponry is taking place today. That is good news for Kensi and Deeks except that the team has to lie for a bit to get their people out. Without a clear person to blame, the DOJ's attorney wants to arrest everyone, but he's biting off more than he can chew. The team finds the spy, and Granger not so subtly warns the attorney not to mess with his team again.
Overall, a very nice job by Chris O'Donnell, whose focus on the work made for a great episode. Not to mention that small mention in the episode of not being able to be in two places at once was chuckle-worthy.

[Photo credit: Monty Brinton/CBS]