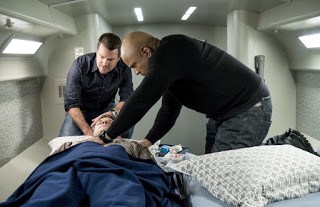 To those of us looking in from the outside, the dire situations on NCIS: Los Angeles have tempered a bit since wrapping up the mole storyline. That's as it should be. The team has gone through so much personal turmoil in the last few months, they should be allowed to have some fun and revel in victory when they can get it. This week's mission may be high stakes, but it feels good for the team to have their sense of control back to be able to help others who aren't as self-assured in high stakes situations.
NCIS looks into the suspicious death of Sheldon Rhodes, an engineer testing a guided missile destroyer for the Navy. After all, people with that level of intelligence don't just explode out of thin air. Usually when your boss does that, you show up to mourn with your co-workers in solidarity. However, two of Rhodes's employees don't make it into work. Sam and Callen follow one of them, Aiden Tinker, to Tokyo, just in case he is trying to sell classified information. Unfortunately, they must do so without access to any weapons. They are able to make the acquaintance of a U.S. Marshall for help. He, Sam, and Callen fight against four unauthorized passengers in the cargo hold, and when the Marshall is hurt, everyone must work together to stabilize him and keep those on board safe.
Back in L.A., Deeks and Kensi meet with a friend of Sam's who informs them that the explosive materials used to kill Rhodes were actually more in line with those used on television sets. These particular explosives are easy to track back to Rhodes's murderer, but it doesn't help with who ordered the hit. That's where Eric and Nell come in. They figure out that the classified information isn't being sold on the ground, but while in the air, and not by Tinker since the program has a built in self-destruct mechanism should someone try to steal it. Once Eric and Nell know that, they have to kill the plane's wifi. Things happen very quickly after that, where concealing the dangerous situation on the plane from its passengers is impossible. After a little scuffling, Deeks and Callen are able to subdue their targets. With the information they retrieve they are even able to help the Japanese government capture a few Chinese spies on their soil.
I didn't think Deeks and Kensi could get any cuter or happier, but they never cease to amaze. Now that Kensi is fully recovered, Deeks thought it would be a nice surprise to bring her friends to town. It's nice to see these two back on track. However, I can't help but feel that this is a bad omen. Deeks knows that Detective Whiting is alive and getting stronger everyday. She has his full confession to killing his former partner, and if she confronts him one more time, I don't think he'll go back on his word to turn himself in. Which means he and Kensi might be living on borrowed time after all.
Does it seem like Deeks and Kensi's bliss is too good to be true?
NCIS: Los Angeles Season 8 Episode 19 Review: "767"
Summary
NCIS: Los Angeles has an in-flight crisis, while on the ground Deeks lightens things up a bit.