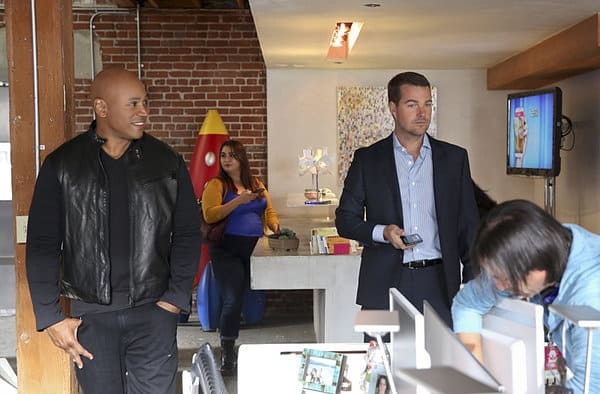 It's always good to have fun, and what better way than to delve into NCIS: Los Angeles? This week's episode has some quips with a tech startup as it deals with the death of a former Navy man turned startup investor.
NCIS investigates the death of Larry Overson, a venture capitalist who became a billionaire with innovative security software called Overguard. This case falls under NCIS jurisdiction because Overson first began his security software working in the navy. Initial clues lead to Overson's former business partner and friend, Mark Powell. After all, nothing screams potential suspect like bad blood over stolen business ideas between friends. Unless of course you also happen to have security footage showing said former friend leaving the crime scene at the time of the murder.
When they finally catch up to Powell, he tells them that he and Overson created an extraordinary type of software, a daemon, which runs background on data systems. Their daemon was unique because it wound run undetectable. The risk was too high though, especially since they violated the Espionage Act by not telling the NSA that they developed an undetectable daemon under NSA contract in the first place. Years later after their falling out, they realized someone stole their daemon. If that technology were to fall into the wrong hands it would mean easily accessible data to potentially powerful people. Powell denies involvement, but it was someone close to Overson, which leads NCIS to their lawyer Wilson Rowe.
On the personal side of things, Callen is once again single, so once again his friends are on alert in case he decides to go rogue. It doesn't help that he is spending his free time doing a background check on Joelle's new boyfriend. In need of some fun, Callen goes undercover as a potential investor for one of Overson's rejected investments, a social media site called Flibbit. While Callen is having fun playing tech boss, Kensi and Deeks barely get to the lawyer before he is shot by a sniper. Sam discovers that a member of the Israeli Massad is undercover at the company tracking a few Pakistani ISI agents who want the daemon. More troubling is that the daemon was uploaded onto the Flibbit main server. NCIS's only hope is to stop the daemon from being transported on an external hard drive. They manage to do that, but the damage has already been done. It creates a very interesting dynamic as now both Pakistan and the U.S. have control of the daemon, probably aimed at each other.
All of that trouble to uncover an international security breach, and Overson's murderer was under their noses the whole time. Powell was the one who asked Rowe to broker the deal for the daemon to the ISI. All he wanted was easy money.
Have to admit, this episode makes you think twice about Twitter.
Tell us what's wrong with this post? How could we improve it? :)
Let us improve this post!