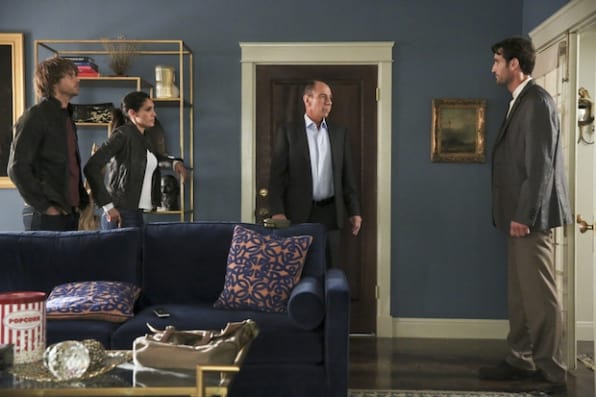 Oh my Densi-loving heart! This week's episode of NCIS: Los Angeles centered around the show's favorite romantic couple, who got a huge blast from the past.
Deeks and Kensi take another big step forward when they announce to the team they have decided to move in together. I for one am more excited than Eric and his puppy banter! In a unique situation the team is briefed about their latest case in Hetty's office. All Hetty will tell the team is that her contact is in possession of important Afghan contacts related to antiquities' sites. The man they are hunting, Sy Riggs, is an ICE agent trying to sell the list to the highest bidder, which would be a great blow to Afghan culture. Even more troubling, the antiquities could be used to finance terrorism. Hetty sends Deeks and Kensi to protect her contact, but neglects to tell them that it is Kensi's ex-fiancee Jack Simon.
Jack explains he fell into work for Sy Riggs, who was gathering names of local contacts as well as sites. Riggs is desperate to get rid of Jack so that he can't talk, so Hetty brought him back to LA for his own protection. Callen and Sam work on finding Riggs while Densi are stuck in a safehouse with Jack. Three's a crowd does not even begin to explain how awkward this is! It's not even awkward from Kensi's point of view since Jack has remarried since last he saw Kensi in Afghanistan. Under the circumstances, Deeks is being a pretty incredible boyfriend. He encourages Kensi to say whatever she needs to say to get closure with Jack. Granger of all people is the one on Jack's case about his actions. Jack doesn't consider the United States his country anymore, but he explains he came at Hetty's request because wants a peaceful Afghanistan for his family.
Jack and Deeks actually get along really well. They compare notes on Kensi's messiness, and Jack is one of the few people who knows that Deeks tortured a man in Afghanistan. Jack is able to advise Deeks not to push Kensi away like he himself once did. Deeks later leaves Kensi and Jack to hash things out. The exes are finally able to make peace with each other and their past, agreeing that the changes in their lives doesn't negate the love they once had.
Sam and Callen find that Riggs is planning on selling his intel to an Egyptian appraiser named Salib. Salib realizes that Riggs is more trouble than he's worth, so he cuts out the middle man and goes after Jack. Jack agrees to give himself up to Salib in exchange for his family's safety. The team is able to save Jack and secure the names of high-value people and places in his possession. Once again Hetty was one step ahead of them all, deploying a SEAL team to protect Jack's family the minute he left Afghanistan. After all the mayhem is over, Kensi demands to know why Hetty would risk Jack's safety. Then again she already knows the answer, that Jack would always have come because it was right. Deeks and Kensi bid Jack a fond farewell, and settle in to their new life as a co-habitating couple.
Do you think it was important for Jack to come back to give Kensi that final piece of closure?
NCIS: Los Angeles Season 7 Episode 14 Review: "Come Back"
Summary
Deeks and Kensi get a blast from the past on the latest NCIS: Los Angeles.