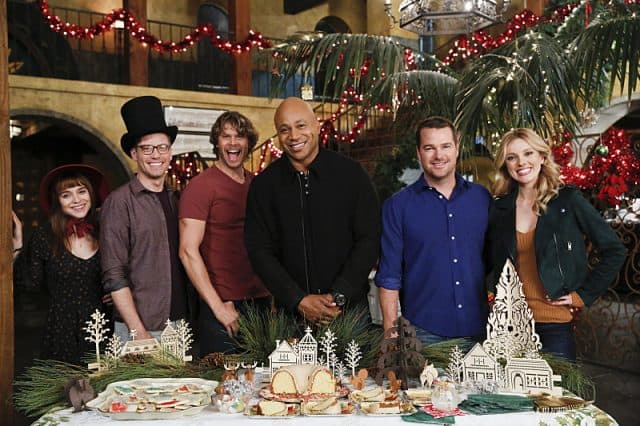 In the City of Angels you'll find cookies, mistletoe, and maybe a decorated convertible sleigh. It's Christmastime on NCIS:LA! Everyone wants something for Christmas, above all else, peace on Earth. The NCIS: Los Angeles agents do their best to make that final wish come true for a couple in deep with the wrong people. Making sure that they do their jobs well on a day-to-day basis distracts them all a bit from the looming deadline to find the mole. As for their own Christmas wishes? Some do come true, but most have a hope of coming true in the New Year.
Anna returns just in time to help NCIS find a kidnapped NSA Cryptologist named Jennifer Morgan for the holidays. NCIS can't assess if her work in threat detection software is at risk until they find her. The only other person who could know where Jennifer is, is her journalist boyfriend Gregory Jenkins. Unfortunately, he too has gone missing. When the team eventually does find Gregory, they realize that the kidnappers are really after Gregory to get to Jennifer. This was never about Jennifer's intelligence, but about Gregory's. He was about to blow the whistle on dozens of rich and corrupt people around the world hiding their money in shell corporations in Panama. Luckily the guys hired to steer law enforcement away from Jennifer's trail weren't too bright. They're pretty dumb, but nevertheless tight-lipped.
Since the kidnappers won't talk without a larger threat than Sam, Hetty pulls the trigger on Gregory's intel. While a bunch of rich fat cats go into a panic, Eric of all people plays Rambo in order to get the kidnappers to talk. Thus Jennifer is rescued, reunited with Gregory, and all is well in time for Christmas!
As the team investigates the case, everyone has their own holiday priorities. Nell gets into a Women in Technology Mentorship program, blowing her holiday plans with Eric. Eric sees it as a warning that they may be drifting apart, but given his behavior in this episode, it's safe to say that he and Nell will be learning things about each other for years to come. Sam is desperate to make the holiday special for Michelle since this will be the last Christmas they have with their daughter before she goes to boarding school. Even Anna has a wish-peace with her father. Arkady accidentally caused her DOD transfer to stall, so Anna hasn't been speaking to him. She takes Sam's advice to call her father, and as a thank you Arkady gets Sam those Hamilton tickets he wanted. Anna's Christmas seems to be looking up when Callen invites her over for New Year's. Kensi's about 95% back to full form, but it takes a little probing to get her there emotionally. She's been so overcome with fear that NCIS can get along without her. She even lets her mind wander to a scenario where she, Anna, and Nell get into a brawl in the middle of the office. Luckily that scene wasn't real and no eggnog or special agents were harmed. Kensi will be back full-time next year.
What are your New Year's wishes for NCIS: Los Angeles in 2017?
Tell us what's wrong with this post? How could we improve it? :)
Let us improve this post!