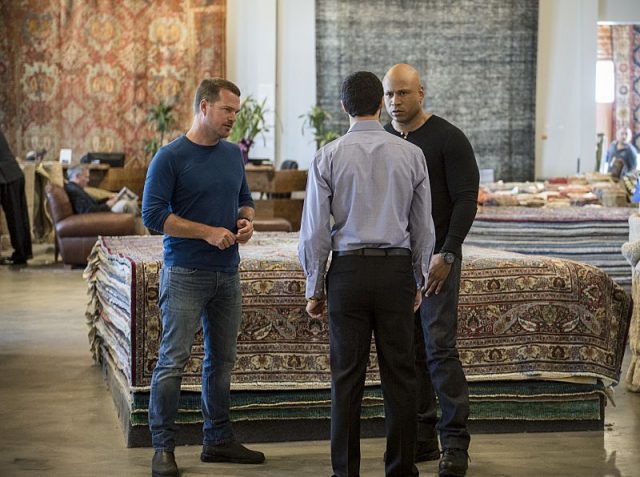 NCIS: Los Angeles is much quieter this week after the two hour series premiere quite literally ripped everyone apart. You'd think that the Office of Special Projects has been in straights much direr than this, but usually they are a complete team. As it stands, NCIS: Los Angeles is down two members. After last week's crisis Kensi is in a coma. Hetty has confessed to being the mole in NCIS. The team is broken up, their leader is in federal custody, and they still haven't found the actual NCIS mole. Dire straights indeed, but NCIS doesn't have time to take a day off.
Other than being in a coma, Kensi's prognosis is good. She received treatment to relieve the pressure on her spine, and all her vital organs are going strong. The thing is she's still not waking up. Deeks and Kensi's mom Julia hold vigil in the ICU. Despite intact motor reflexes, there's no guarantee when Kensi will wake up and what shape she'll be in when she does. Not even Deeks's beautiful proposal is enough to wake her. Work is the only thing that distracts Deeks from the dreaded 'wait and see' standard. With Kensi out for now, Nell has to step in as Deeks's partner. Any other time Nell would jump at the chance to be in the field. After losing the only other females on the team, Nell is more than a little apprehensive. Not to worry, this girl knows how to handle herself. Even Eric has stepped up. He's been practicing his skills in the firing range. He's no field agent, but at least he's hitting the actual paper.
There's still work to be done. A Marine reservist named Jasmine Garcia kidnaps an Afghan-American citizen named Gabriel Amir outside his mosque. He has a clean record, and she has a clean record, so this whole situation makes no sense. Sam and Callen find their hostage in a storage container. He gives them zero answers. The only way NCIS can get any answers is to find Jasmine herself to ask questions. She clams up until they find her private files. In those files are the names of American women who were trafficked into Afghanistan. Since her job in the military was as a translator, Jasmine was able to build a rapport with the women and help them escape. She kidnapped Amir because his cousin Bryson Khan was luring women in through an acting agency. Through Khan they get to the trafficker, just in time to prevent a few more girls from being shipped overseas. Hopefully Jasmine isn't reprimanded for doing the wrong thing for the right reason.
Hetty deals with Dugan in Washington, D.C. This exasperating, downright stupid man plans on crucifying Hetty without much evidence. Dugan thinks that if he can fill Hetty with enough tea and scotch that he can get her to talk. All Hetty's interrogator manages to do is to get herself drunk. Finally they send in SecNav. He knows Hetty isn't guilty, but he also knows that Hetty hasn't been able to smoke out her mole for almost two years. He releases her, and she returns the favor. If she hasn't found the mole in 90 days, Hetty will officially resign from NCIS, permanently.
Will Hetty be able to catch the mole before Kensi wakes up? How long can Kensi stay in a coma before Deeks loses it? NCIS: Los Angeles returns in two weeks.
NCIS: Los Angeles Season 7 Episode 3 Review: "The Queen's Gambit"
Summary
NCIS: Los Angeles steps up in the wake of losing two team members.