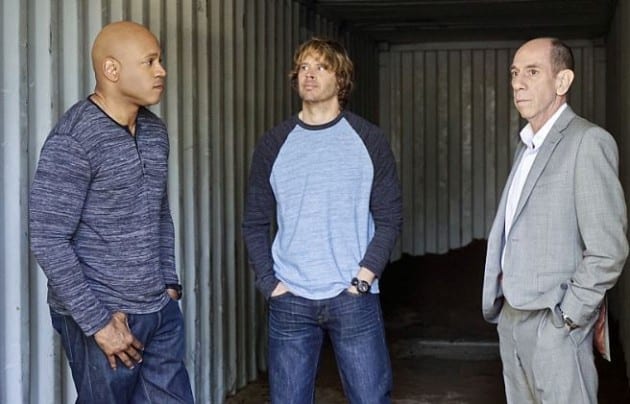 This week's NCIS: Los Angeles tells a cautionary tale about being on the precipice, the point where your life can go in one direction or another. All of this means we're taking a trip back in time and re-visiting Callen's past to be exact.
Callen has infiltrated an Aryan Supremecist group in prison, led by an extremist named Dallas Alder, in order to find medical nuclear material needed to make a dirty bomb potentially bigger than the one that took out Oklahoma City. With Callen locked in prison, the team can't make any more headway in the case unless Callen is out. One planned prison break later, Callen and his cohorts are free. Once back with the group and its leader, Callen is forced to rob a bank so that he doesn't blow his cover. He manages to alert the authorities before things go too far, only to trap himself inside having to pretend to be a criminal. With some bravery on the bank manager's part, and some good negotiation on Sam's, Callen is able to keep his cover. That may not hold for long when the Aryans manage to literally drill a hole in the ground to get out of the bank undetected with two and half million dollars.
So now Callen is trapped in an undisclosed location with no protection or way to communicate with the rest of the team. To make matters worse, Callen just can't seem to help wanting to help another person, even if it means putting himself in more danger. He's so focused on helping one of the younger, more susceptible members, Charlie, that he tips his hand and makes Dallas suspicious.
Callen did leave behind one of the Aryans as a bread crumb for the rest of the team to follow. With the wonders of Photoshop, Sam forces the Aryan to give them all the information he has or risk Dallas seeing a very risqué and progressive photo. If only this guy had anything valuable to actually offer them. Which is where Kensi comes in.
Kensi is tasked to pose as Callen's girlfriend, and this just feels awkward. Admittedly, this is probably not nearly as awkward as Eric Christian Olsen and Daniela Ruah acting as a couple when they are actually brother and sister-in-law, but still. So while the boys are doing their thing, Kensi is working Dallas' girlfriend, Ginny. Dallas has broken Ginny down so deeply that she thinks she has to stay with him because no one else could ever want her. Kensi is eventually forced to break her cover with Ginny in order to get to a trapped Callen. The team is able to track down Callen to an abandoned paper distribution center that had the paper Ginny would do her beautiful drawings on.
By the time the team has arrived to save Callen, they have already re-taken the missing nuclear material, but Callen's cover is blown. Sam is able to stand up and be there for his partner, but Charlie returns in time to pull a gun on Sam. Callen desperately tries to talk Charlie down from the ledge, saying it's not too late to make a decision that can turn his life in a positive direction. Time has run out for Charlie to make the conscious decision to stop hating and hurting people, though, and there's nothing else Callen can do. The team is forced to take out Charlie, which makes Callen think about his own point of no return. He was in and out of foster homes, until he landed in juvenile detention, then escaped and became a fugitive. As we know, the rest is history. Hetty took Callen in, took him under her wing, and made him into the man and agent he is today.
Next week starts of an NCIS: Los Angeles multi-arc few episodes. Let's see what is so important that it garners such attention.