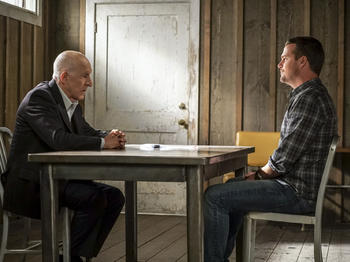 Every family has some type of awkwardness during the holidays. Though Thanksgiving is a time for everyone to gather around the table and appreciate each other, there's always that one outlier. Callen's normal Thanksgiving tradition with the Hannas as good old Uncle Callen has to wait until he settles things with his other family. The universe works in mysterious ways, and on this week's NCIS: Los Angeles, Callen has a hell of a reunion with his father. What would the holiday season be without murder, mystery, and a long-lost Russian spy?
An informant familiar with NCIS from a past case offers up information on a hit ordered by Russian spies, in return for tighter personal safety. The woman he identifies as the victim of Polonium poisoning isn't even on NCIS's radar. She's not an average elderly woman, but a Russian spy who changed her name from Katerina to Mary when she fled the Soviet Union in 1988. What's really disturbing is that Katarina wakes up and has a very visceral reaction to seeing Callen. The reason for her reaction becomes clear when Callen's father Nikita has to protect Katerina from armed gunmen in her hospital room.
In a perfect world Callen would love to have a nice father-son reunion, but he needs answers about the case first. Recall that Nikita Reznikov and Arkady had a deal where they helped refugees flee Russia during the Cold War. Nikita worked the emigration side, and Arkady helped the refugees assimilate into the U.S. One was Katerina, who was poisoned by Volkoff, one of Arkady's trainees in the Russian spy game. The FSB came after Katerina because she stole a lot of money when she fled Russia. It turns out Volkoff will do anything he has to in order to get to the top as the head of the FSB and all the Russian spies. The thing is that Katerina doesn't have the money. Volkoff poisoned Katerina to buy time to find the person who does have the money. Arkady refuses to believe that Volkoff would be out for himself, but orchestrating the kidnapping of Katerina's daughter Alex doesn't help Arkady's case.
While NCIS locates Alex, Hetty and Nikita finally meet face-to-face. Remember that Hetty was Callen's mother's handler when she died. Nikita and Hetty's lives have been intertwined for decades, they've just never met before. One experienced spy to another, Hetty can read him in a way no one else can. She knows this mission to save Katerina was personal for him. She also knows that if Nikita isn't given the opportunity to help, he'll never be at peace. Hetty lets Nikita go so he can trade himself for Alex. It's a brilliant plan, except now the FSB has Callen's father as a hostage. Once Callen rescues him, Nikita reveals that he did have the money once, but it has since been given away to various refugee charities.
A father-son reunion isn't the only thing NCIS: Los Angeles is thankful for this year. Eric is more than happy to put his scientific skills to the test in the field, maybe a little too happy. Eric's over-exuberance is great for gathering evidence, not so much for dealing with potential suspects and witnesses. He and his trusty radiation detector don't succeed so much with that. The good news is that just like learning anything technological, Eric has been putting in the work to become more capable with a weapon. He manages to hold himself well in a shootout, even saving Deeks's life! If Eric can get that good at a job people once laughed at the thought of him having, Kensi can certainly get back to her old shape. She'll have Deeks there for the next four months of her recovery, and all us Densi fans will finally get the proper proposal as a reward for our patience. As for Hetty, she celebrates the holiday with Granger, toasting to Granger still being among the living. The man may be dying, but he gets to choose how and when he tells his daughter and the rest of NCIS the truth.
With all the threats gone, Nikita agrees to a real conversation with his son. As sorry as Nikita is for severing ties with his family, Callen can't forgive and forget the decades of pain. What he can do is move forward without regrets of his own. Callen gives his father the chance to be honest with him, and the man unburdens his final secret. Volkoff knew poisoning Katerina would lure Nikita out because Nikita and Katerina were much more than acquaintances. Callen spent his whole life without a family. Now come to find he has a father, and a sister, and a nephew all in the same place! For someone who grew up an orphan, this Thanksgiving Callen will have more to be thankful for than he ever has.
How do you think Callen will adjust to suddenly have so much family?
NCIS: Los Angeles Season 8 Episode 9 Review: "Glasnost"
Summary
Callen's reunion with his father on an NCIS: Los Angeles case leads to a Thanksgiving surprise he never saw coming.