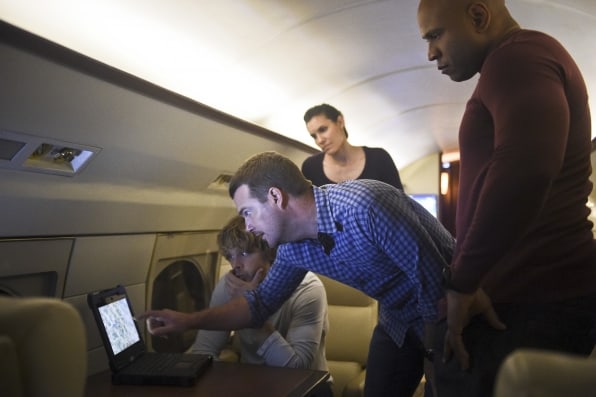 The season 7 finale of NCIS: Los Angeles had everything. From family drama, to the team working as a unit, with the occasional funny quip thrown in. The finale left only one loose end, but that is probably for the best so that the show may thrive into next season. In the meantime let's talk about how well Aiden handled himself in this episode, the exact way his father would have.
Sam gets a personalized distress code from his son Aiden saying his school is being taken over by an extremist group. It's hard to tell which mode Sam goes into first, SEAL-mode, agent-mode, or Dad-mode; probably all three. The one advantage NCIS has is that no one knows that Aiden was able to make contact with the outside. Granger worries that Sam will make this a personal mission, but when Aiden sends them a video showing Tahir Khaled as the assailant, it's now a personal and professional necessity to get to the school. The team rushes to San Francisco to free the hostages and protect Aiden from his father's enemy.
In the meantime Aiden and one of his classmates move through the school after they lose their Wifi signal. Tahir is on a rampage looking for Aiden. He threatens to shoot a student every minute that Aiden is not found. Aiden is his father's son, which means he won't let others die in his name.
Sam, Callen, Deeks, and Kensi arrive at the academy just as the first shot is fired at a teacher's leg. Back at home Hetty and Granger have the unfortunate task of informing Sec-Nav that the military academy has been taken over. She insists of being looped in completely, which means the team doesn't have long until other agencies arrive and aren't so careful about their methods.
The theme of the night is brave and stupid. Aiden turns himself in to Tahir, Kensi switches places with a female cadet so she can gain access to where the hostages are, and Sam baits Tahir over the school overcoms. In a matter of seconds the entire school is filled with gunfire. Kensi distracts a guard in the auditorium so Callen and Deeks can storm in and save the students. Callen swoops back around to save Aiden while Sam is left alone to deal with Tahir. He stops just short of killing him so that he can finally hug his son.
This season finale was particularly great for several reasons. We got the usual witty banter between the team, as well as several great moments for Densi and Neric, although the latter couple was surprising. So much of the season was focused on moving Deeks and Kensi forward, it was nice that Nell and Eric finally took a step forward and kissed. The strength of the team was solidified, Sam's son Aiden showed real prowess and potential for being an agent, and Tahir Khaled was finally captured. The only topic which wasn't solved, but was discussed was the mole. In a sense it was a good thing because the past two seasons were the discovery of a mole, so Season 8 should be dedicated to the unmasking of the mole.
Was the NCIS: Los Angeles Season 7 Finale everything you hoped it would be?
NCIS: Los Angeles Season 7 Episode 24 Review: "Talion"
Summary
The NCIS: Los Angeles team must race to save Sam's son when an enemy from their past come back to haunt them.