And Baby makes 4! NCIS: Los Angeles star Daniela Ruah announced this week that she is expecting her second child with husband David Olsen. Ruah made the official announcement via her instagram page. Ruah's pregnancy is a joyous occasion for her family and fans, but will it also be a joyous event for her onscreen counterpart?
Ruah took to Twitter and Instagram this week to officially announce that she and husband David Olsen will be welcoming baby #2 this fall. In the photo shown below, the soon to be family of four exercises together as Ruah expresses her joy at sharing the news with her fans.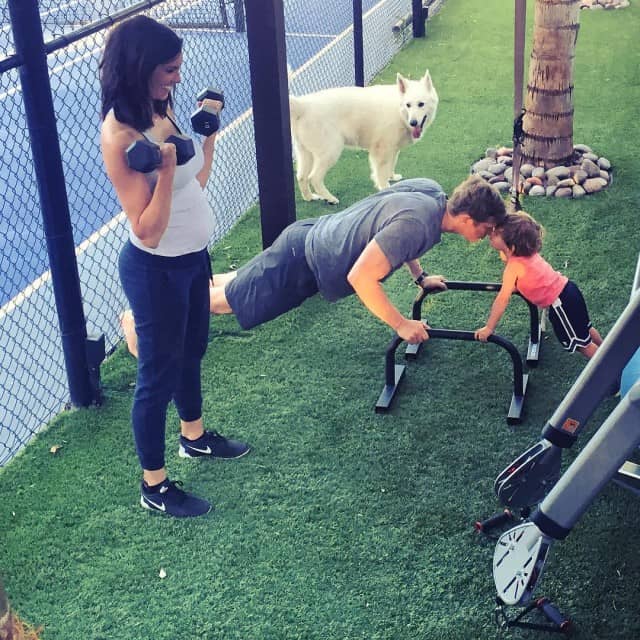 Ruah met her husband through co-star Eric Christian Olsen, who is the younger brother to Ruah's husband. David Olsen works as a stunt double for his brother on the show. The two are already parents to son River Isaac, who was born in 2013. Coincidentally, Ruah's brother-in-law and co-star Eric Olsen is also expecting his second child this summer with wife Sarah Olsen. The NCIS: Los Angeles co-stars' first-born children are cousins, also born less than a year apart from each other. Ironically the in-laws's onscreen characters Special Agent Kensi Blye and LAPD Detective Marty Deeks, are in a relationship on the show, a popular couple dubbed by the fans as "Densi".
There's no word yet from the expectant star or showrunners as to whether or not Ruah's pregnancy will be written into the show. The writers chose not to include her first pregnancy into the Season 5 plotline, instead opting to send Kensi Blye to Afghanistan on a secret mission while Ruah was on maternity leave. It wouldn't have made sense to do so back then anyways since the onscreen Densi pairing was only just beginning to move past platonic. Since then the characters have moved into a committed relationship and officially moved in together. Most recently Densi began discussing the impact getting married and starting a family would have on their partnership. Deeks even unofficially proposed! With Ruah due in the fall of this year and production on Season 8 to begin in late July/early August, the time may just be right in the character's lives for a pregnancy storyline.
Would you like to see a Densi baby in Season 8?
Tell us what's wrong with this post? How could we improve it? :)
Let us improve this post!