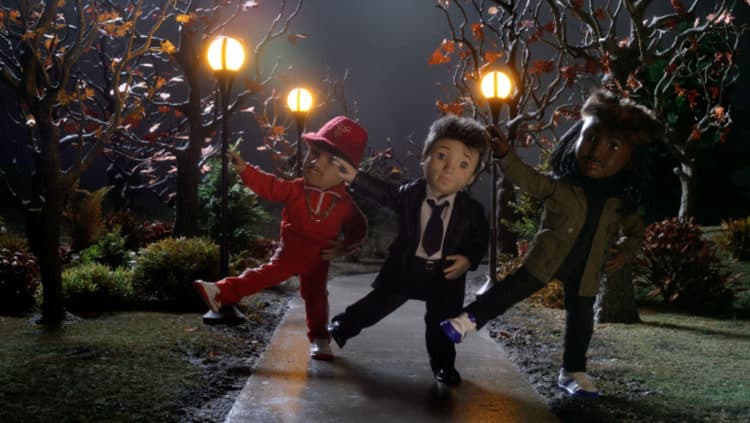 When I wrote about the joys of AMC+ a few days ago, I didn't expect them to outdo themselves within the week. Ultra City Smiths had already aired, but I hadn't heard a thing about it. For those in the dark, Ultra City Smiths is a neo-noir about the titular city that focuses on an ensemble of memorable characters, from sex workers to wrestlers and a TMZ reporter without a name. The show is heartfelt, funny, dark, gritty, kindhearted, and utterly mesmerizing to the point that you hardly remember that the cast consists of baby dolls who are brought to life with stop motion.
English-language adult animation is often relegated to different variations on The Simpsons or South Park. It's a shame, too. Dramatic animation can blur lines between looking at a painting and watching a movie. It's why one of the best movies of the last few years, Loving Vincent, struck such a chord with me. Loving Vincent is the first completely oil-painted animated movie and tells a fictional tale of the days following the painter's tragic death. Every frame is, quite literally, a work of art, with every stroke, the occasional stray bristle, and even the occasional touchup work popping on the screen before your eyes. It's one of the most masterful works of filmmaking that I have ever seen, and it's a shame that its footprint isn't bigger.
Animation can help build a dreamscape that feels more natural than a fully-acted film. The Oscar-nominated Anomalisa was a stop motion tour-de-force from the mind of Charlie Kauffman, focusing on an aging man's struggles through love and life. Yes, they could have acted it out, but the care that goes into stop-motion, in particular, adds a stunning layer of artistry that, while done a thousand times for children, is rarely used for its dramatic strengths. Furthermore, the sense of awe I get when I think about a genre where not just the performances and set are part of the art, but everything we see and hear is, too.
Enter Ultra City Smiths
Similar in tone to Invincible, albeit with a grimier, more lived-in stop-motion universe, Ultra City Smiths may sound like a 90s brawler and look like something RL Stine would put into a Goosebumps book, but it's something more. Its promotional materials could quickly sell the show as a new take on a comedy like Robot Chicken. Still, while the show has genuine laughs, musical numbers, and a slew of baby dolls who look like they escaped from Sid's Toy Story house, it's one of the most beautiful shows I've seen in years.
The series wastes no time showing you that Ultra City is not Springfield. It's an amalgamation of American cities with crass billboards, a rampant drug problem, poverty, and sorrow. The voice actors do not ham it up the way that one expects. Even the always charismatic Jason Mantzoukas tones it down for a more natural approach. There are touching moments between mothers and daughters about financial woes, the story of a not-quite-sex-worker who sells backscratches for money, and an unraveling murder plot featuring eight people all named Smith. However, when you think you have the series figured out, there's a song and dance number about Chris Conrad's protagonist, Nico's many demons, big and small. Did I mention that each episode features Tom Waits bookending the plot points with raspy narration?
The cast is not quite Invincible levels of depth, though Mantzoukas offers some crossover appeal. However, with John C. Reilly, Melissa Villasenor, Hollywood power couple Kristen Bell and Dax Shepard, Broadway superstar Da'Vine Joy Randolph, and a slew of other recognizable names, faces, and voices. Everyone in Ultra City is perfectly cast, with subtle scenes of touching dialogue replacing the type of gravitas that's a staple of the genre. It's funny but in a subtle way. It's sad in ways that most neo-noires are sad. It's exciting, suspenseful, beautiful, ugly, deranged, and full of heart. This isn't a show that thrives on being adult animation. It's a standard noire that's elevated by the craftsmanship in every frame.
I recently discovered Blacksad, a series of magic realist comics that feature a Los Angeles detective in a world filled with people who look like animals. Save for subtle references to tusks and fur. The comics rarely call attention to the fact that we see people for the animals they are. Ultra City Smiths is similar. The animation never calls upon itself. In the hands of lesser artists, it may have featured slapstick humor about the fact that they're all dolls. Ultra City Smiths could have been a memorable live-action tale, but the animated medium strangely adds a disgusting realism to the world.
The show's creator, Steve Conrad, may not be a household name, but his writing credits on films like Weather Man and Wonder explain both the surrealist nature and the show's heart. Conrad is no rookie to the television world. His previous television work on Patriot and Perpetual Grace, LTD showed glimpses of Ultra City in their DNA. It's hard to think of anything comparable to Ultra City Smiths in both his filmography or anyone else's. It takes the gloom and doom of a Ralph Bakshi movie, places it into a setting that simultaneously feels like a 1970s street drama and a modern-set detective genre.
It touts itself as a musical murder mystery with dolls while not feeling like anyone. Each episode clocks in at just over twenty minutes, yet throughout each runtime, we get a fully-fleshed-out story for at least a half-dozen different characters with gut-wrenching monologues about a life of poverty and loneliness, a few laughs, stunning camera work, and a smooth visual storytelling style that never punches down or winks at the camera.
Heading into Ultra City, I was intrigued by the style. However, I was not expecting one of the most impressive feats in storytelling that I've seen in many years with equally excellent voice-acting, direction, and messaging that's as awe-inspiring to the heart and soul as it is on the eyes.
Tell us what's wrong with this post? How could we improve it? :)
Let us improve this post!