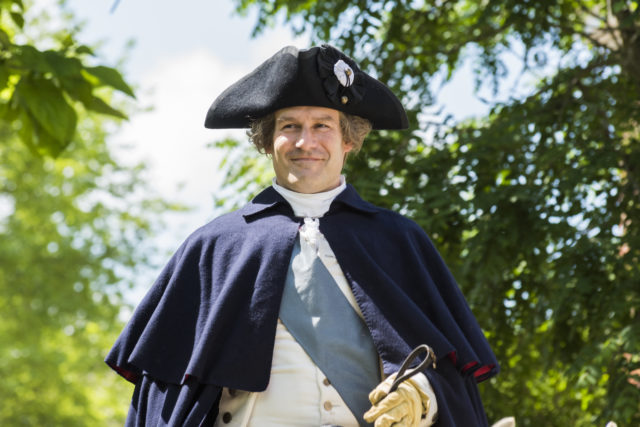 "Our country owes its life to heroes whose names it will never know"– General George Washington
We have finally reached the end of the four year journey of TURN: Washington's Spies. The show has had its ups and downs and has never been perfect. However, the closer they got to war stories and showing just how important the spies were to that war effort, the higher the stakes rose and the more exciting the stories became. TURN is very much a show that took some time to find its footing, but once it did, told consistently great stories.
My series finale reviews have tended in the past to be gushy love letters about their subjects, or perhaps hate-filled if I was disillusioned with said show. I was not disillusioned with TURN, so hopefully this review will turn out to be the former rather than the latter. That said, my tendency has put a damper on my ability to actually review series finale episodes. The good news is, though, that I could not possibly write a love letter better than the creators of the show did for the final episode. "Washington's Spies" was a love letter to fans, history lovers, and patriots. As series finales go, it tied nearly every loose end into a neat little bow, tugged on the heartstrings and made me proud to be both a fan of the show and an American.
The frustrations and trials of war did not always paint George Washington in a positive light. The larger than life, "I cannot tell a lie" wooden toothed George Washington was a figure of American propaganda. Ian Kahn's portrayal in TURN painted Washington as both a fallible man and a model of integrity and loyalty. The scenes featuring Washington in the finale project the true founding father of this nation. In this episode alone, Washington stood for freedom of the press and compensation for those who have served the country faithfully. I have been mightily impressed with the presentation of the Washington character during the run of this series.
TURN's final episode served as both warning to the wicked and selfish and comfort to those who serve a higher purpose. It was comforting to watch Abraham be honored for his service to the cause, especially by Washington, whom he hadn't met previously. It was comforting to see Jordan and Cicero head north after being pardoned by Washington himself. It was comforting to see tales of redemption for Hewlett and Simcoe, and to witness happy endings for those who deserved them. On the other side of that, Benedict Arnold, who chose vanity and personal gain over friendship and country, returned to England only for his plans to fall on the ears of a madman who is focused only on honoring John Andre, which is only salt on the wound. A masterful component to the show has been contrasting Arnold (a traitor) with those who loyally served the British side like Hewlett. Though Owain Yeoman's addition was a brilliant one and he breathed new life into this series, the show has taken a clear stance on the likes of Arnold.
At the final scene of this episode, I wept. Both my love for country and my love for this show were mixed into an emotional experience watching this finale. I just felt like that needed to be said.
I don't have the time to type out what I loved about every single character, but this cast as a whole was excellent. Each episode was masterfully acted by everyone involved. I believed that these actors were their characters, which I learned in acting class means that their job was done well. It was, and I enjoyed every minute of it.
I want to thank AMC for this wonderful show, and everyone for reading my reviews and thoughts on it. I've had a blast covering it these past four years. I'd also like to thank the cast and crew for reading every good and bad thing I ever wrote about you. I'll always be positive but honest and you can count on that. Thanks for reading, everyone.
Tell us what's wrong with this post? How could we improve it? :)
Let us improve this post!