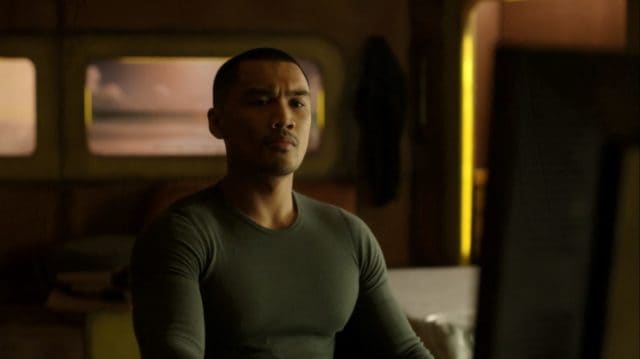 One television series that is rapidly becoming an explosive fan favorite is the sci-fi phenomenon, Dark Matter. The show is centered on a background that is actually lacking background. Basically, a crew of six shipmates wakes up at different times aboard a spacecraft called the Raza. Surprisingly, as each member of the crew awakens, they realize that they do not know who they are. In order to create some form of identity, the crew names themselves in the order that they awaken, with the first person who woke up being One, and the last being Six. The show is filled with drama and action, as the team attempt to discover who they are, while simultaneously attempting to find out how their memories were completely wiped out.
Actor, Alex Mallari Jr. plays the role of Four on the show, and while he is definitely a fan favorite, there is still a lot that you don't know about him, so here are five things you didn't know about Dark Matter's Four, Alex Mallari Jr.
1. The Sword Fights Are Done with Lightweight Bamboo Replicas
One of the exciting things about this show is the awesome sword fights that Alex is always triumphant in. While these swords appear to be extremely heavy, they wield them with ease. Alex revealed the secret to how this is done. Apparently, all of the actual fight scenes are done with sword replicas that are actually made out of lightweight bamboo. That explains a lot.
2. He is Currently Shooting a New Series
Talking about staying busy. While Dark Matter is getting ready to kick off its second season in less than two weeks, Mallari revealed that he has been shooting another series in Moscow, Russia. The name of this new series is "Insomnia." As of right now, Alex is not sure when this new series will air, nor is he certain what network will pick up the pilot, but at least he is staying busy. According to the actor, you have to get the work while the getting is good.
3. He Is a Fan of His Character
In Dark Matter, Four does not have a lot to say. When Mallari is asked about his character, he says that he has always been a fan of the silent deadly type of characters. It adds mystery to the show. While he admits it would nice to hear a little bit more from four, he doesn't want it to be too much because it would take away from his character.
4. Alex Has a Fetish with the Katana
While there will be opportunities for Alex to use any number of weapons, he says that he is absolutely fascinated with the Katana, and he is 100 percent committed to mastering the skills of using a Katana in battle. He also says that he would love to see his character do more aerial scenes with hand-to-hand combat in close quarters.
5. Alex is Actually Enamored with His Character
It is not always the case that an actor gets a role that they are actually infatuated with, but Mallari is in a place in which he is completely consumed with the idea of playing Four. He loves the mystery associated with the character, and the fact that the character is so lethal, something he believes makes his character special.
Tell us what's wrong with this post? How could we improve it? :)
Let us improve this post!