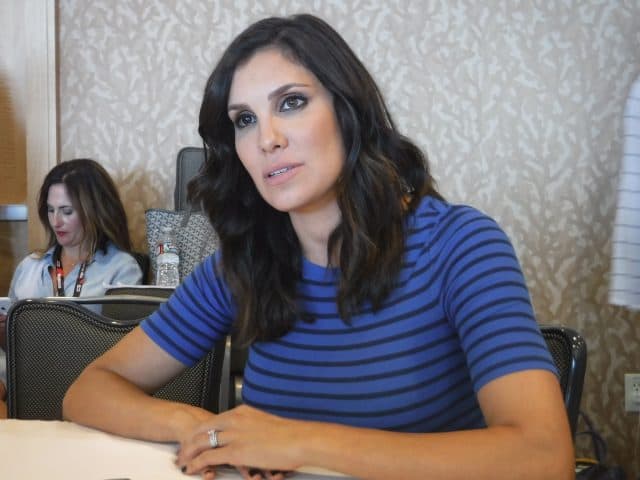 NCIS: Los Angeles' Daniela Ruah has much to be excited about these days. The CBS show will return for its 8th season October 2 just as Ruah welcomes her second child, a daughter. This exciting moment in Ruah's life will be a milestone for her, but it will also bring about a big change for her character Special Agent Kensi Blye. Last month at Comic-Con we talked to Ruah about how she and her character have changed going into the eighth season, the "Densi" relationship, and how real life influenced the narrative of Kensi's storyline.
As far as being a new mom again goes, this time to a little girl, Ruah could not be more grateful. "I'm super excited…[since] my mom and I are super close. We now have an equal household, a male dog, a female dog, a son, daughter, a mom and a dad. We're even keel." Ruah is also having a lot of fun showing her energy during her pregnancy, often using it on the job. "Our production team and crew is a lot more cautious with me than I am." Deep into her third trimester and Ruah insists on kicking in doors herself if she can, even standing on a chair during the Comic-Con CBS Panel! The pregnancy will affect her character Kensi's storyline moving forward, and in a deeply contrasting way. "Because of the pregnancy they've [the writers] been forced to take a very drastic turn in this character's life. That brings something completely new for me to play." By drastic, Ruah means life-altering and devastating. It's put her in "a really weird juxtaposition" at times because while Ruah herself is at the happiest point in her life her character will face dark times ahead. Though she's not telling exactly what the catalyst is for this upcoming storyline, only hinting that it involves her "toughest moment filming so far this season."
Don't think that this difficult storyline will keep Kensi Blye away from NCIS though. "The way they've written the scenes I [will have] shot most of it before birth, a couple of weeks [after I give birth] I will be back to shoot a couple of scenes within that storyline. You won't even notice that I've been gone, I'll be in every episode." And rest assured she will be back for at least one happy occasion, as the long-awaited Deeks and Kensi proposal will be happening before the year is up! "I'm excited to see the thing that happens that spurs this sequence of events and see how people react to this development. I'm excited for people to see the proposal and what stems from that."
Which part of Kensi's Season 8 story are you most excited to see?