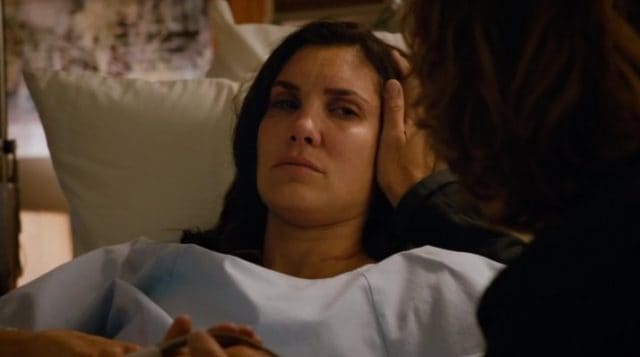 When you're helpless to fix the problems in your personal life, it's a small comfort to be able to help someone else's. When you're a Type A personality, it's almost a necessity in order to cope with what you can't control. That's the position Deeks finds himself in on this week's NCIS: Los Angeles. While Kensi is out of her coma, she has a long road to a full recovery. That's if she makes a full recovery. Deeks can support Kensi, but he can't make her whole again. Work, and a little support from a friend, make up for some of the heavy emotional weight.
Callen and Sam are puzzled when they are called in to investigate the home invasion on a Lieutenant Commander. The break-in has nothing to do with the Commander, and it's moot since the intruder ends up dead. Who they are actually investigating is the next door maintenance man who intervened to save the Commander, then took off. Playback of the attack showed that maintenance man John Martin had some serious fighting skills, which pair nicely with the stash of hidden weapons in his home. The only clue they have to Martin's whereabouts is a newspaper clipping of young student named Carla Stone. This guy's life makes even less sense when Sam and Callen have to stop someone from killing Martin. Once in the boat shed Martin spins every question Sam and Callen throw at him, though he can't hide his anxiety when they refuse to let him go. Eventually Martin reveals that he is ex-Mossad, and that Carla is his daughter. He decided to watch his daughter grow up from afar when a rogue agent he apprehended escaped custody and vowed revenge on Martin's family. It may not be official NCIS business, but how can they turn down an agent in need? Anna and Nell try to bring Carla in but are blasted back by a bomb before they can. It's been awhile since I've seen Eric that worried, and we get a beautiful wonder twin reunion afterwards.
They arrange to meet with Carla's kidnapper Ariel to exchange her for her father. He only agrees to let them look through the barrel yard if Martin comes as a willing hostage. Sam barely gets to Carla in the barrel she's been stashed in before she suffocates to death. When Carla's safe, their priority is to get her father back. Not only do they accomplish their mission, Deeks (accidentally) incinerates Martin's nemesis to a crisp. Now Martin and Carla are free to reunite, but a reunion like that isn't simple. Since Carla thinks her father abandoned her, Martin wonders if she isn't better off without all the violence and baggage he brings into her life. Callen knows firsthand how it feels to be abandoned, even when it's for your own safety. Given the choice, Callen would do anything to have a relationship with his own father. That's just not possible for him, but it is for Carla.
NCIS can help people in their work life, but personally it's a different story. Sure Callen can join Sam in his excitement at football coming back to L.A., but there's not much joy for Deeks and Kensi right now. The good news is that Kensi is on the mend. She's awake and ready (emotionally) to kick butt, particularly her own since she can't move. The doctor tells Kensi that because of her incomplete spinal injury, she has partial paralysis on the left side of her body and an immunity to pain and temperature on the right side. We all know how well Kensi responds to be helpless. Deeks tries his best to cheer her up, but his efforts only upset Kensi more. While Hetty is away looking for the mole, Granger takes over her mother hen duties in addition to managing the team. He pulls Deeks aside when he sees the emotional and physical strain he is under. When someone else needs all your support in their time of need, there's little left to comfort yourself. Deeks is going to need just as much support as Kensi for the new few months.
Kensi will fight her way back to full form, but just how rough is the journey going to be?
NCIS: Los Angeles Season 8 Episode 6 Review: "Home Is Where The Heart Is"
Summary
On this week's NCIS: Los Angeles the team helps a father in need, just as Kensi pushes away those she needs the most.