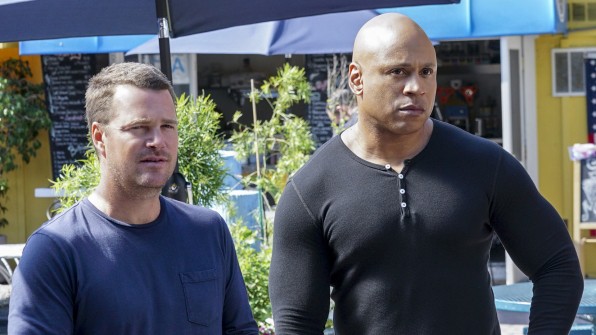 When NCIS: Los Angeles star Daniela Ruah announced her pregnancy at the end of last season, the writers were tasked with finding a strong storyline which would pave the way for her maternity leave. By the end of the night, that's exactly what they accomplished. The two-hour season premiere tested the NCIS: Los Angeles Office of Special Projects to the breaking point, only gathering strength until the last moment. Outside forces stretched the team to dangerous limits. Season 8's opener was so intense, the OSP is forced to face the possibility of two of their own never being able to come back.
The first hour introduces the team's case. A stolen cargo container containing radiation. What's worse is that containers capable of carrying radioactive material have been stolen from several hospitals. Sam and Callen find the man who stole the radioactive chemicals and equipment. Between this man and the 'volunteer organization' connected to the company the chemicals were transported under, they find a few snapshots of their suspect. A closer look leads the team to their real target, a former American Navy man named Ahsakeem. He defected to Jihadism and the Islamic Union, now at the top of the NCIS target list.
The team can't adequately work the case since their entire office is being turned upside down. Since Hetty and Granger haven't been able to smoke out the mole, the Under Secretary of Defense invades the office to replace them all. Under Secretary Dugan doesn't just want to replace everyone, he wants Hetty and Granger to turn on each other. Nell does what she can to help the team work the case while keeping an eye on the office. She also seems to employ a few precautionary measures to make sure they aren't locked out of their system by the interlopers. When Dugan (finally) realizes the team is working a case, he insists his people join in. Under threat of a dirty bomb going off, the team reluctantly agrees to their shadow's terms to pretend to exchange their prisoner. These people are not at all qualified for under cover work, and the operation goes south quickly. Their prisoner is shot and they lose their leverage. Dugan even has the nerve to blame the team! The good news is that the underlings they've been chasing aren't terrorists. They were just wannabes who thought it would be cool to rub elbows with terrorists, until the fantasy got a little too real. Which means they aren't particularly bright when it comes to not getting caught. The real terrorists don't know yet that they've been compromised, which gives the the team an idea. They'll allow the transportation of the radioactive materials to go through, and follow them to Syria so they can apprehend the terrorists and any other items they shouldn't have.
As all of this is happening we learn that Deeks is planning on proposing, imminently. It's not as if a proposal would be out of the blue. 'Densi' talked last season about getting married and having children last season. Kensi knows this is coming, but she has no idea that Deeks has already purchased the ring. Given that their jobs are in jeopardy, Deeks thinks it's the right time to seriously consider their next career moves. They have a very serious conversation about whether or not they are ready now. Being in NCIS isn't just a job to Kensi, it's who she is. Giving up her work completely isn't an option she ever sees considering. Funny how Kensi says that, then later has to wear a baby bump for the case (where Ruah's real baby bump is on full display). That's cute. What isn't is that in the course of the investigation, Deeks accidentally swallows the ring. Deeks doesn't let a little thing like a lost ring keep him from calling Kensi his fiancee for the entire season opener.
In the second hour Nell, Eric, and Granger try to help Kensi, Deeks, Sam, and Callen from the home base. Granger has to listen to the condescending ramblings of Dugan. Dugan even mocks Hetty's years worth of spy gear as the 'old ways'; during which time I go on a tirade at my screen which politely paraphrased sounds like "Don't touch Hetty's stuff!". He's smug, with no respect for Hetty and Granger's experience. It's Hetty's gut which tells her that something is wrong. On the ground in Syria, the foursome quickly and quietly apprehend Ahsakeem. Their joy doesn't last long. No sooner does the team get off the ground then their helicopter is hit with a rocket launcher. Sam, Callen, and Deeks are fine, but Kensi gets pinned under a piece of the helicopter. By the time the guys can get her out, Kensi has passed out from the pain of a broken leg. Worse still, there is a real possibility that she could have sustained a spinal injury. In the chaos of helping Kensi, they've also lost Ahsakeem. The Los Angeles Ops team aren't waiting for Dugan's permission to help their team. They break into Ops after hours to send help. A lot of good that does since it takes forever to get permission to commandeer an emergency drone. When Ops gets the drone they have to decide whether or not to send in a strike. An illegal drone strike on Syrian soil. The team is in such hot water, Granger has no choice.
The fallout begins immediately. Dugan is furious that the team used his access to order an illegal drone strike. Hetty has given in to the guilt of not being able to protect her division from a mole. She lets her team know she will play a Queen's gambit, sacrificing herself for everyone else. Hetty falsely confesses to being the mole. As for Kensi? By the time the Navy doctors have worked on her, there is only so much they can do. Kensi ends up in a coma.
The Season 8 opener was a little bit of everything. It still doesn't answer the question that started this whole mess. Who is the mole? Thoughts?
NCIS: Los Angeles Season 8 Episodes 1 & 2 Review: "High-Value Target/Belly of the Beast"
Summary
The 2-hour season premiere of NCIS: Los Angeles leaves the OSP unable to adequately protect themselves, leaving one of their own near death.