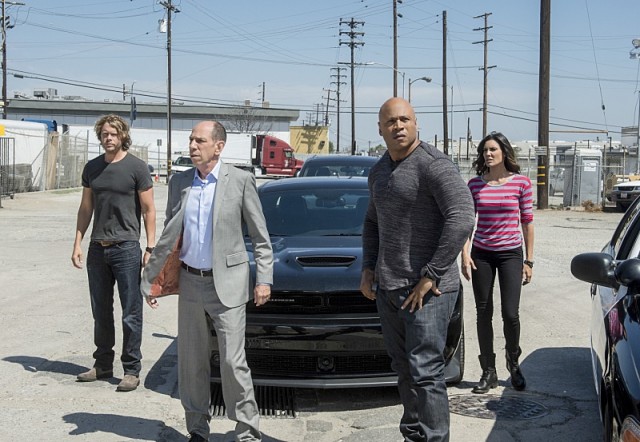 I'M BACK! As is the fall television Season, which begins this week in full swing, and I couldn't be happier. We're starting this fall with an oldie but a goodie procedural, the return of NCIS: Los Angeles for its seventh season.
When last we left our NCIS OSP team, Kensi and Deeks officially became Densi, the LAPD had just opened an Internal Affairs investigation into Deeks, and Callen was forced to leave a wounded Arkady behind in Russia while being handed the (false) knowledge that his father was dead.
As a result of the events in Russia, Callen has since gone off the grid trying to find out if his friend Arkady is alive. Sam charges into Callen's search when he is forced to shoot a man who was following Callen. Sam would much rather have an explanation than gratitude at this point, and he has it right saying Callen looks like Deeks on a bad day. It's not like it's the first time Callen has gone digging on his own, but he's never done so with so much blatant indifference in his voice towards Hetty and his NCIS team. Sam has faith that Callen will reach out to his team when he's ready, but Hetty and the others are worried.
This is where some familiar pieces come into play, and I applaud the writers for bringing back some old key guest stars. Kensi and Deeks work the case and find a familiar friend, CIA Agent Sabatino, who was last seen wounded during the White Ghost mission in which Kensi had to be rescued. Sabatino relays to the team what Callen was looking for, which turns out to be another old friend of his own in the form of Anatoli Kirkin, a Russian mob contact Deeks once shared a very uncomfortable spa bath with. Kirkin agrees to help Callen find Arkady, but only if Callen steals an already stolen priceless painting back for him.
Sam continually begs his friend to let him in, but Granger has had enough of Callen's rogue antics. Sam reluctantly agrees that it should be NCIS and not some random violent team to bring Callen in. Even Hetty is at her wit's end and goes so far as to tase Callen! When Sam and Callen do find each other again, Sam agrees to let Callen go, but is not so convinced that his partner doesn't need an assist, so Sam puts a tracer on him. Good thing too, since Kirkin double crosses Callen and is in need of an assist. It's alright, though: Callen felt that tracer immediately and trusted his partner had his back. Later, Hetty hands over all of Kirkin's underground contacts to Callen so that he may continue his search for Arkady. However, this information comes with a warning: never to leave his team in the dark like this ever again.
I would be remiss if I did not mention the official undercover couple, Kensi and Deeks, who are now officially an item. They're even finally saying "I LOVE YOU's!!!!!!" Deeks and Kensi really are a true couple, with all of the teasing, bonding, and trust that that entails. The trust between them is especially key given that the Internal Affairs investigation is still a dark shadow on Deeks' life. Deeks can't tell Kensi what he doesn't know, since he's still taking shots in the dark as to what he could have possibly have done to set this in motion. The only incident he can come up with is a complaint that he filed against a senior detective with old school, violent methods during his early days on the force; that detective ended up dead under very violent circumstances. Since Deeks genuinely can't think of any other incident from his past which could be considered remotely questionable, there is no way to know what the investigation will turn up, or how to prepare for what's coming.
Other things to look forward to this season on NCIS: Los Angeles: Sam decides to train Eric in firearms lest the OPS tech hurt himself. This should be…let's be honest, comical.
Which storyline are we most looking forward to for in NCIS: Los Angeles Season 7?
[Photo credit: Neil Jacobs/CBS]