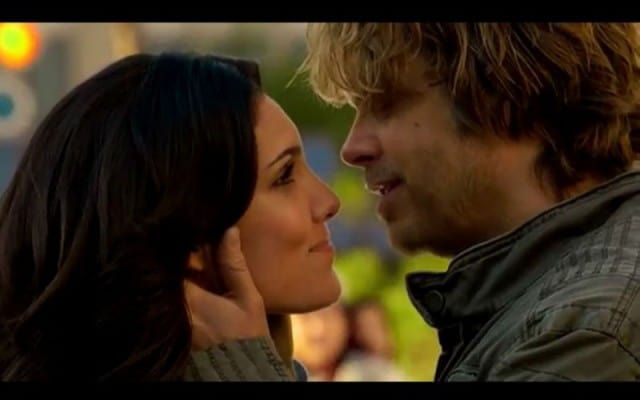 It seems like so long ago that Marty Deeks and Kensi Blye were just partners. Deeks was not even apart of the original NCIS: Los Angeles cast, yet he became a fan favorite almost immediately. Six years later the once partnership, now relationship, known as "Densi" is stronger than ever and could be ready to take another big leap. Before we look at what's ahead, let's take a moment to appreciate how far Densi has come.
NCIS: Los Angeles fans were first introduced to LAPD Detective Marty Deeks towards the latter end of Season 1. His on-screen chemistry with NCIS Agent Kensi Blye was immediately recognizable. Deeks proved to be so skilled at undercover work that NCIS Office of Special Projects Director Hetty Lange hired him as their LAPD Liaison, though she was really grooming him to eventually become an NCIS Agent. Deeks never did officially surrender his LAPD badge, but he has become apart of the NCIS family.
It took several years of back-and-forth witty banter before Deeks finally admitted his true feelings for his partner Kensi, when he kissed her in the Season 4 finale. They finally consummated their relationship in Season 5 before Kensi was whisked away for an undercover assignment in Afghanistan (a storyline contrived to accommodate portrayer Daniela Ruah's maternity leave, coincidentally to her on-screen love interest's real life nephew). It would take another year before Kensi and Deeks finally became an official couple in Season 6. Since then the couple have publicly revealed their relationship to their coworkers (although most already knew), met each other's mothers, and most recently, moved in together. Now comes the most daunting question of their relationship: are they ready to have children?
It's not a new topic for the couple, objectively speaking. Even before they became a couple Kensi and Deeks discussed the difficulties of raising children in their profession. They've just never been so committed in their relationship where the possibility of having children could become a reality. Now it seems the two may be ready to have a serious conversation about starting a family.
"The Seventh Child": Callen and the team try to save a child in imminent danger who has been brainwashed by a terrorist cell. Also, Deeks and Kensi discuss having children.
Do you think Densi are ready to be parents? Tune into NCIS: Los Angeles tonight to find out how their conversation goes.