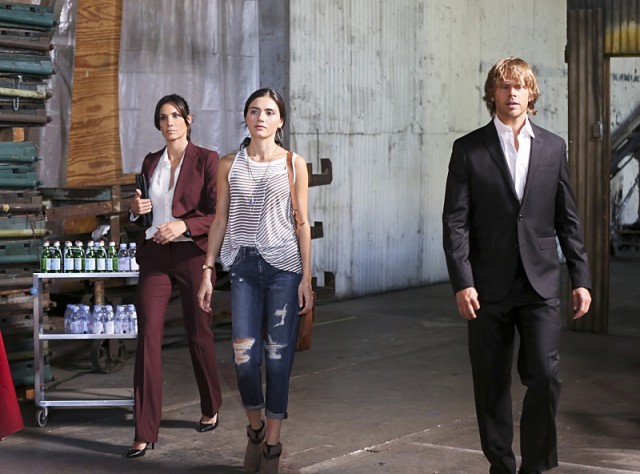 NCIS: Los Angeles goes Hollywood! I'm honestly surprised it took this long considering the proximity. This week's case dips into the glamorous Hollywood life of a model, with a killer twist.
The team is assigned to protect a model named Catalina Diaz, who is assumed to be the sole survivor of an massacre by a Peruvian dictator named Silva. It just so happens this dictator is running for president, and therefore, he wants any witnesses to his past crimes silenced. Deeks and Kensi pose as driver and assistant, respectively, for Catalina. It provides them with the opportunity to get to know Catalina in order to get her to submit to a DNA test.
In the meantime Sam and Callen are forced to work with Alex Elmslie, an old acquaintance they do not trust. It doesn't change Elmslie's dedication to making sure Catalina is the girl he's been looking for in order to protect her. If she can testify against Silva, she also has the power to save an entire country. While trying to find out if the few people Elmslie asked for help leaked the information he had, Elmslie himself is set up and arrested by the FBI. He is cleared of wrongdoing, and Granger gives him one last chance to redeem himself. Elmslie has this one last case to get his job back, and if he does, he could also make progress in getting his family back.
Hetty believes that laying out the facts to Catalina will be a better strategy to gain her trust. This strategy seems to work at first, until Catalina runs off with her boyfriend Gabriel. Some pieces of the puzzle seems to be missing, and they find it in a woman pretending to be Catalina's cleaning lady. This woman, Blanca, actually turns out to have once been Silva's mistress. She actually staged a fire so that she could fake her death, along with those of her children. Both Catalina and Gabriel are actually Blanca's children with whom she fled to the United States and put in separate adoptive homes in order to keep them safe from Silva's spies. This whole time the danger hasn't been just a witness to Silva's crimes, but Silva's obsession with taking back possession of his son. Now aware of the full truth, NCIS is better equipped to deal with Silva's men when they come to kill Catalina and Gabriel. Elmslie getting a win after such a rough time is a nice bonus, too.
A successful case, but by far the best part of the episode had to be Hetty's photo shoot with Catalina. Yes, she got some great shots of the model, but I think we can all agree that Hetty's turn in front of the camera lens was the best shot of the day!
[Photo credit: Monty Brinton/CBS]