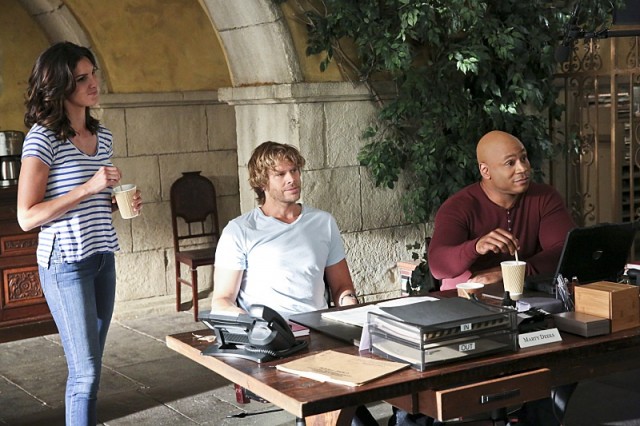 Finally, a Densi-centric episode of NCIS: Los Angeles! Not to worry, the case of the week for the NCIS OSP team was still pretty complex, packed with a few surprises and an old friend. I must admit, though, the diehard shipper in me relishes an episode which focuses on the personal and professional relationship that is "Densi."
The NCIS team gets an SOS from DEA agent Talia Del Campo. Talia discovers her partner is a mole hired to access the DEA's informant list. After his partners' handlers have him killed, Talia feels she cannot trust her own people and calls NCIS for help. Deeks and Kensi cover Talia's back, while Sam and Callen try to infiltrate Citadel, the psychological security firm which is supposed to be protecting the DEA's security. Deeks and Kensi find the thumb drive with the informant list discreetly hidden with Talia's partner's widow, diverting one huge leak so that thousands of informants don't lose their lives.
A funny thing happens when Callen is put under evaluation for security clearance (never mind he passed that more than a decade ago). During a part of the exam where candidates are asked to say their first responses to a series of pictures, every image reminds Callen of his father, which causes his heart rate to elevate and him to fail this part of the vetting process. Callen's personal inner turmoil, which he later brushes off by saying "People see what I want them to see," ends up working out in the team's favor. This does provide Callen with the opportunity to find a mole in Citadel who is willing to let candidates slide through security in exchange for personal favors. The team realizes that this goes higher up the food chain, with a whole network of shadow spies planted in hundreds of security agencies all over the world, all at the beck and call of the corrupt doctor in charge of Citadel.
The team knows this can't be an official operation or else they risk tipping off their target, so they decide to set a trap. If only to hype up the Deeks and Kensi tension, Deeks is sent into the meet with Talia instead, leaving Kensi in the trees as a sniper. I seriously questioned Kensi's trigger finger as Talia teasingly flirted with Deeks, both as apart of their cover and to mess with Kensi. A lesson for all: don't antagonize a sniper when she has possession of a rifle. The meet ends up in a shootout with NCIS as the victor, while Hetty finishes off the evil doctor with her own psych program. Just a hint, when you're trying to use a sophisticated program as psychological warfare, make sure you're not using it against the person who invented it
During the entirety of the case, it is clear that Deeks is hiding something from his partner/girlfriend. Unanswered phone calls and dodging Kensi's questions of where he's been the last couple of nights do not go unnoticed. This stresses out Kensi, which in turn stresses Deeks out even more. From different perspectives Sam and Callen end up offering Kensi and Deeks the same advice: to breathe and focus on the moment. So after a stressful day, Deeks takes a deep breath and takes Kensi home…where his mother is waiting with lasagna. This is another big step forward in their relationship as Kensi meets Deeks' mother, played by the lovely Pamela Reed. Mama Deeks simply looks her son's girlfriend up and down, asks Kensi if she can cook (a resounding "no"), then says "I like her." All of that worry for nothing!
NCIS: Los Angeles fans, do you think the Deeks and Kensi relationship took a step in the right direction?
[Photo via CBS]