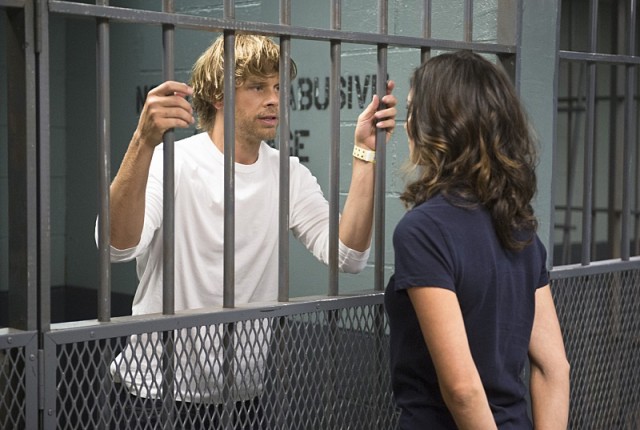 One of the best episodes of NCIS: Los Angeles to date has the team racing to save Deeks from a murder charge. Truth be told, when you develop a connection with the characters it is difficult to watch, let alone recap, when they are put at risk. What sets this episode apart from others is that beyond the case, the emotional consequences are tangible and are left open to make for a very nerve-wracking road ahead.
The whole team is playing catch-up to the case that got Deeks arrested, though at least Callen can use this as a distraction from his problems with Joelle. It was difficult to watch Deeks being paraded into the police department in handcuffs. Formally arrested for the murder of his former partner Francis Boyle, Deeks spends the entire night in an interrogation room with an Internal Affairs agent. Years of playing the game and being on the other side of the table have made Deeks a master in the Interrogation Room. He follows up the detective's ad nauseum insistence that Deeks is a murderer with his usual funny quips. It's a good strategy, if you don't count the part where Boyle's ex-partner Detective Steadman tries to beat Deeks.
In the meantime Kensi is on the warpath. She works with the team to help Deeks but is pulled away when Deeks' mom calls to tell her future daughter-in-law that Internal Affairs is tearing Deeks' house apart. Kensi tries her best to calm her boyfriend's mother, but the only thing that's going to calm this mother is seeing her son. Mrs. Deeks still has so much guilt over not being able to protect Deeks from his abusive father. Deeks tells his Mom he doesn't regret shooting his father because it set him on the path to who he is today. Deeks is a good cop who fights for what is right, even when it's not quite in line with what he should do. Kensi's frustration goes into overdrive when she finds out that Deeks is being transferred to County Jail. In her anger she actually yells at Hetty! Luckily a visit from her future mother-in-law calms Kensi down a bit.
The plot thickens even more when former Internal Affairs Detective Quinn escapes from jail. Nobody believes this is a coincidence. Ever the pessimist/realist, Callen is worried about what they will find if they look into the case. He is right to worry, since they find out that Deeks has been secretly sending money to a prostitute that Boyle was with the night he died, and that she was Deeks' informant at the time. Sam and Callen track down the girl who tells them that she was sent in to set Boyle up by Quinn. When Quinn never showed up to arrest Boyle, she believes that it was because Quinn was too busy stealing Boyle's illegal stash for himself. Ipso facto, she believes Quinn is the real murderer; or at least that's what she says, even if her eyes say differently.
Sam and Callen figure that Quinn will reach out to his former lawyer Monica Lee, who since her last encounter with NCIS has been disbarred. They strike out with her, so they meet with Deeks' LAPD Lieutenant Bates. He is the one person in LAPD who is actually on Deeks' side and wants him cleared. To that end, he helps Deeks escape from lockup so that he can clear his name. I really like this guy! Deeks believes the key to clearing his name is to find Quinn, so he heads to Monica's house, only to find Steadman there. This man really is a psychopath since he takes great pleasure in beating Monica in front of Deeks. Deeks thinks on his feet and leads Steadman to the boat shed under the guise that he stole his money years ago and hid it there. Deeks stalls long enough for the rest of the team to apprehend Steadman.
Afterwards, Deeks is reunited with an overjoyed and relieved Kensi, but he still has a scowl on his face. A meeting with Hetty confirms the worst: Deeks was actually guilty the whole time. Turns out Hetty had Quinn secretly transferred and leaked the story that he escaped so that they could draw out Steadman and clear Deeks. It doesn't change the fact that Deeks is completely guilty, even if he did murder his partner to save a life. As if this knowledge wasn't bad enough, Deeks questions how he can continue to lie to Kensi. Hetty offers advice, but not the kind any die-hard Densi shipper would like. She reminds Deeks that it's easier to keep secrets when there's no one to tell, and just like that the fate of our favorite NCIS supercouple is put in jeopardy.
A superb episode of NCIS: Los Angeles. Definitely one of the show's top ten!
[Photo credit: Neil Jacobs/CBS]