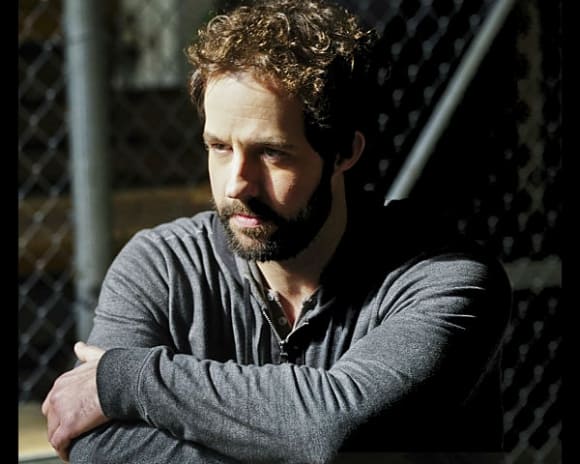 Since the beginning Nate Getz has been an integral part of NCIS. As an Operational Psychologist he has used his skills to profile victims, suspects, and criminal organizations. In the last few years Nate has ventured out more into deep field work. In this week's episode of NCIS: Los Angeles, Nate goes a little too deep in an undercover assignment to the point that his colleagues question his own psyche.
NCIS is informed that Nate was apart of a crew which robbed an undercover truck carrying military weapons. The theory is that the criminals want to sell the weapons to local gangs. Nate was tasked with linking organized crime and terrorism, but when Callen and Sam finally catch up with him, he seems to have turned to the dark side. He kidnaps Callen at gunpoint and leaves Sam stranded on a forest reserve. Nate's female companion is Alisa Chambers, who is known as the Black Widow for killing her partners. NCIS figures out that her past crimes include Omni, a criminal organization that NCIS took down months a few years back. Kensi and Deeks work on one of Alisa's former contacts in the hope he will give them something on what she has been doing.
Nate plays dirty. He taunts Callen with knowledge of his past, and reveals just how deeply involved he is with Alisa. Nate and Alisa want JDX, a stable heat-resistant explosive built by NASA. Nate waterboards Callen, and when that doesn't work, he and Alisa threaten to kill innocent civilians if Callen doesn't give them what he wants. Desperate to find his partner Sam searches Nate's place and finds the truck the criminals are traveling by. Callen has no choice but to help Nate and Alisa rob the JDX, where Sam and Granger are already waiting to rescue Callen. Callen manages to escape after helping Alisa get the JDX, and Granger informs him and Sam that they need to let Nate play this out.
Kensi and Deeks get information from one of Alisa's old partners that she is planning on bringing together the heads of the LA gangs and terrorists to sell the JDX to the highest bidder. Not to worry Nate lovers, he hasn't gone to the dark side, he just does a really good impression of a guy who has. Nate turns on a tracker to help NCIS locate him. They lead a raid to arrest the criminals, but Nate accidentally gives himself away in the process and is taken hostage by Alisa.
The shootout ends in Nate being rescued and Alisa dead. When all is said and done Nate admits he lost control of the situation trying to prove himself. Callen asks him to trust in himself and the team, while Hetty assures Sam that she is going to make sure Nate becomes an elite agent. Nate has proven he definitely has the guts to do deep undercover work, but he still has a lot to learn.
Who else was disturbed at how good Nate really was at playing the villain?
NCIS: Los Angeles Season 7 Episode 21 Review: "Head of the Snake"
Summary
NCIS: Los Angeles's Nate Getz goes too far in an undercover assignement.