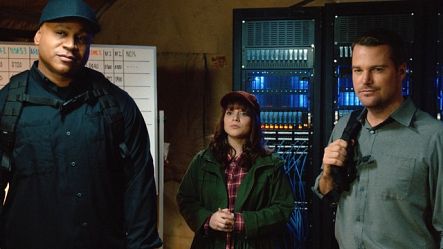 This week NCIS: Los Angeles investigates the sabotage of a rocket launch with a large, classified payload on board. The contents remain a mystery throughout the entire episode, but national security seems to pale in comparison to the personal secrets NCIS is keeping. For the first time since Hetty returned, it feels like the team is in a good place. They've had a lot of losses, but the new additions are solidifying, and the fallen have not been forgotten. But what if there is one more person who is preparing to say goodbye?
The case of the week would certainly be easier for NCIS if they actually knew what they were looking for. Even the knowledge that the payload on their sabotaged rocket is a satellite seems to be too much information. The job is made even harder by the fact that the object they are trying to find ends up in the hands of some quarreling campers who can't decide what to do with the satellite. Honestly, if people would just do what NCIS tells them to do, there would be less drama. One neurotic gambler with access to classified files, one greedy, neglected government employee, and one stubborn pretty boy who can't handle the outdoors, and NCIS is ready to go home.
While the rest of the team deals with this, Hetty is on a mission to take care of Keane. You would think coming home after four decades would be a relief, but it's the opposite. Keane's home for most of his life has been Vietnam. The U.S. home he knew before then has changed so much, as has he. The only thing coming home has done is bring up the most haunting memories from his past. Writing letters to the dead is all Keane thinks he has. What he needs is a new reason to live. Maybe the reason is as simple as looking out for a friend. He and Hetty can be there for each other. But Hetty made a startling point that we might need to pay attention to. Much of their unit is succumbing to Agent Orange, Owen Granger among them. Hetty mentioned trying to be there for friends in the time that they all have left. Does this mean that Hetty herself is afflicted with Agent Orange?
Should we be worried that Hetty is going to leave NCIS: Los Angeles?