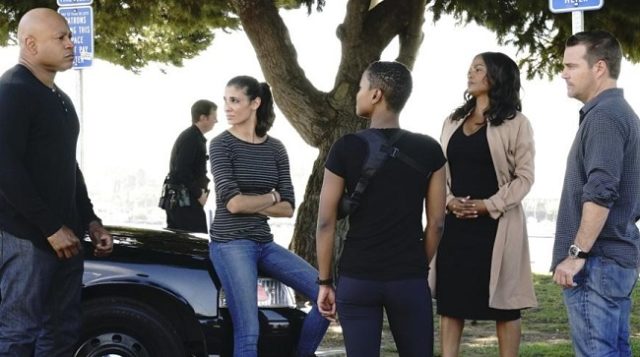 What has been great to see in the last few episodes of NCIS: Los Angeles is that the team finally feels like a team again. After Hetty's departure, there was a brief period of discomfort with the arrival of new characters Hidoko and Mosley. Mercifully, that transition period has passed. That type of discomfort within a team can sour otherwise well-constructed episodes. Now, Mosley has good relationships with, and the respect of, her team. Hidoko has also bonded with everyone, just in time for an episode that has hints of girl power. Plus, this episode gives Daniela Ruah an excuse to break out her Portuguese.
NCIS investigates the deaths of Ernesto Herrera and Pe Lu, two former Marines who took up with two different street gangs after they completed their service, as well as a third victim. All were killed by the same woman in under a minute. In tracking down this assassin and the identity of her third victim, NCIS discovers that she is connected to the Brazilian consulate, and that she is not done with her killing spree. In the meantime, this woman causes a panic on the streets. She has gang members who have taken in former military running scared, thinking they could be next. Consulate General Sousa claims that the third victim, Luciano Carvallo, worked for him and was planning his assassination. That's a nice story. It would be believable if Sam didn't see drug runners inside the consulate.
Turns out Sousa has running cocaine out of Brazil for decades. His would-be assassin Pietra Rey, is the daughter of one of his victims. Kensi is able to talk her down by telling Pietra her own story. If anyone understands wanting to avenge a father's death, it's Kensi. It's a good thing that Kensi was able to get through to Pietra, because Sousa got a little too ahead of himself with Mosley and a gun. Just because Sousa has diplomatic immunity in the United States, doesn't mean Brazilian Foreign Affairs isn't very interested in his cell phone records. Plus, Kensi saves Pietra so that she can have a chance at a reduced sentence. So where is Deeks when all of this is going down?
Deeks has to take care of a little problem with his mother's boyfriend. It seems Gee was mugged, and among his stolen possessions were some workout videos. It's true that they were pretty innocent workout videos, but anything with his mother's face on it, Deeks does not want out in the open. As different as they are, Gee truly loves Roberta. That is something Deeks can appreciate. What he doesn't appreciate is having to call in some favors at LAPD to expedite the process of getting those videos, and a few choice sketches, of his mother back. And we thought sexting was an issue! People, please use common sense. If you're going to have those kinds of images in your possession, don't carry them around in a backpack.
I really like the idea of giving Daniela Ruah more opportunities to showcase her Portuguese culture. Anyone agree?