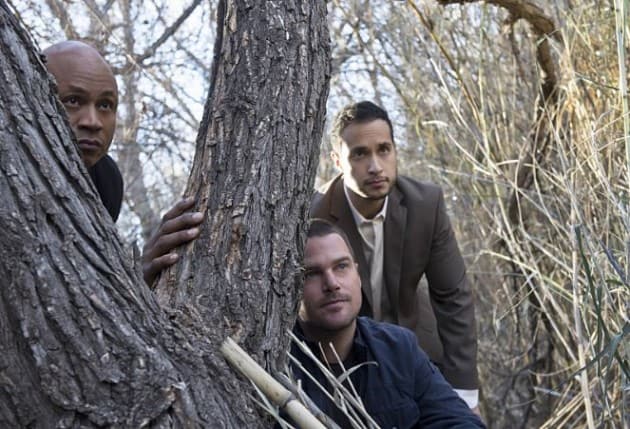 This week on NCIS: Los Angeles, real world terrors make it into our team's day, reminding us how important vigilance is. After a back and forth about their recent dining (Deeks is being tricked into not eating healthy; Kensi was tricked eating a non-home-cooked meal by Deeks), Kensi and Deeks realize that Sam and Callen are ridiculously late for work. For two guys who would break all speeding regulations in order to chase down a suspect, being an hour late for work is very unsettling, especially with the GPS on their phones shut off. This on the day that a major operation is about to happen in order to take down an ISIS sleeper cell. Coincidence? I think not.
Callen and Sam end up being ambushed and taken hostage after following a false tip about a missing NSA analyst. Their captors are clearly trying to keep them alive, but to what end? The pair end up following a tunnel from the room they are being held in to the outside. They manage to get to the outside and find the aforementioned NSA analyst. Seem a little too easy? Of course it is, because they are trapped inside an electric fence, with an analyst who is actually a part of the sleeper cell.
Luckily, due to a dumb move by the fake NSA agent, Callen and Sam are able to figure out that the truth, and recognize when he is fishing for information about who is leaking ISIS secrets to the FBI. They recover their cell phones and weapons long enough to go after the fake agent, while finding the real missing agent in the process. Death by electrocution also seems to be a running theme on shows these days as far as I can tell.
Kensi and Deeks end up following the trail long enough to find out that Sam and Callen were taken alive, but they can't follow it long enough before they are called in to cover the operation. They actually manage to agree with Granger that the opportunity to take down the only known ISIS sleeper cell in the country cannot be put off, even if it means leaving their friends to fend for themeselves. Thanks to Callen and Sam's quick thinking, though, Callen is able to get a message to Ops, changing the meeting place, and almost all of the people in the sleeper cell are captured.
A good episode, but what would you like to see happen on the show in upcoming episodes? Let's talk!
[Photo via CBS]