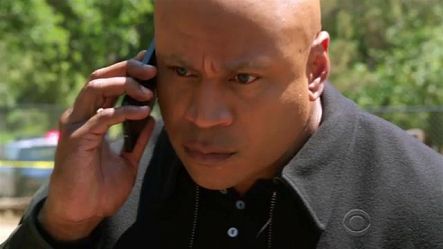 We were told that the two-part NCIS: Los Angeles season finale would do something the series hasn't done before, and now we know at least one part of what the show meant. When Kensi and Deeks first started thinking about family life, they looked to Sam and Michelle as their example. Those two fell in love, got married, and made the mutual decision that Michelle would quit field work when they had kids. It was the perfect set-up for two federal agents. Both of their kids decided to go to the military academy, so Michelle was even thinking about going back into the field. You can plan your future, but you can't predict where and when your enemies strike back.
It all starts when Michelle is drawn out into the open at the same time that Sam is drawn to a body faked to look like his old SEAL team member. Michelle is kidnapped within the hour. The only way her captors agree to release her is if Sam's most notorious enemy Tahir Khaled is. Khaled didn't succeed in killing Sam's son last year, so now he's trying a new tactic. Unfortunately, Khaled has learned from his mistakes. Instead of going after Sam alone, he teamed up with Michelle's worst living enemy, Sherov. Thus a new, murderous friendship was formed.
The one person NCIS doesn't trust is actually the one person who offers any hope. CIA Agent Sabatino returns to prove his innocence to NCIS over the whole mole debacle. Ferris probably would have been the first in line to help Sherov and Khaled, but not Sabatino. He arranges a "meeting" between Sam and Sherov. It's a good idea, but doesn't help. All the while Hetty works to get Tahir released before Michelle runs out of oxygen in the air-sealed room she is being kept in. The best Hetty can do is get Tahir released with the condition of surveillance. Under these conditions, Tahir won't talk. Hetty and Nell put their careers on the line to let Tahir get away, in the hopes that they will be able to find Michelle. NCIS figures out on their own that Michelle was never more than a mile away from home. They just figure it out too late.
NCIS: Los Angeles and Sam Hanna just suffered their most tragic, personal loss in years. There's no guarantee they'll recover from this, unless Tahir Khaled is found. Tune into the NCIS: Los Angeles season finale next week to see if the team gets justice.
NCIS: Los Angeles Season 8 Episode 23 Review: "Uncaged"
Summary
Time is the enemy for NCIS: Los Angeles as they race to save a family member.