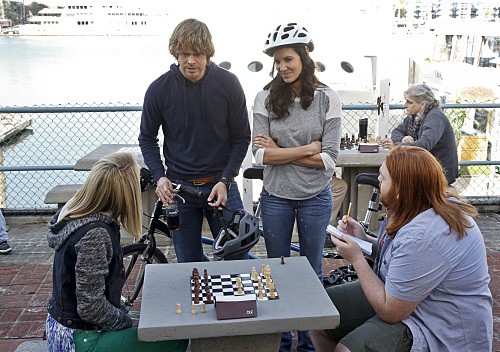 A routine missile test that goes awry focuses on the importance of computer tech for military weapons security in our world. This episode of NCIS: Los Angeles also takes a closer look at another NCIS partnership that hasn't been touched on recently.
When a Navy missile is hijacked and hits a boat off the coast, the NCIS team is tasked with figuring out if all of the Navy's weapons systems are compromised. Sure enough, an email that wormed its way through the server has compromised not only the weapons system of the Navy, but of every other military branch as well.
Working the crime scene, Sam and Callen find a case full of expensive narcotics as part of the wreckage. Turns out the boat belongs to a dentist of all people, who apparently uses the drugs for wisdom teeth extractions through The Smile Squadron. Because his son was living on the boat for awhile, Kensi and Deeks are led to wonder if this was an act against him. It would be a pretty big coincidence that the dentist's son, Wyatt, wasn't the target when his ex-roommate, Josh, who hates him, is also a hacker capable of invading the Navy's network.
Some fresh blood is needed to find and infiltrate the hacker group Josh is apart of, Disavow. This is where the episode gets really interesting, and the spotlight is shined on another couple other than Densi. Blaze (Glee's Becca Tobin), a college senior highly skilled in computer tech with a job waiting for her at Quantico, is introduced to the team and immediately gets along with Eric, much to Nell's chagrin. The more boyish Eric becomes, the more Nell has to bite her tongue (and seriously, why would this new girl have a higher clearance than Nell?). The setup for roommate Josh goes well, in spite of a rather elaborate honeymoon couple performance from Densi, and Blaze is let into Disavow.
The secret leader of Josh's group, who turns out to be Wyatt, has a portable drive with the hack into the weapons systems. It all comes back to a girl as Malee, Wyatt's girlfriend, manipulated both Josh and Wyatt so that she could get the defense software to enact revenge for her parent's deaths in Indonesia. To make matters worse, Blaze is also missing at this point. Sam and Callen recover the software and take down Malee, and Blaze gets to show off her junior fighting skills. Once the case is wrapped and the gang has enjoyed a marionette show, Eric is tempted to expand his circle of friends to include Blaze. Alas, home is where the heart is, which is Eric and Nell geeking around for the foreseeable future.
Some other tidbits we should take from this week's episode:
– Clearance sales are gold, especially the holiday ones.
– Eating in OPS, eating near any ridiculously expensive equipment really, is something Eric still doesn't understand.
– The habits for a burglary stakeout and an undercover stakeout are apparently highly similar.
– Sam will never stop being afraid of clowns, and has become way too comfortable using text jargon in everyday conversation.
– Hetty apparently knew Liza Minnelli. Seriously, who doesn't Hetty know?
Anyone else happy Eric and Nell stick together like peanut butter and jelly?
[Photo via CBS]