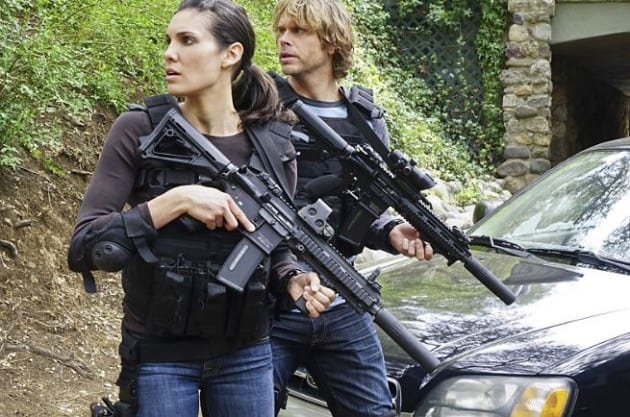 The Season 6 finale of NCIS: Los Angeles wrapped up not only a recurring storyline for this season, but answered a question that has plagued one agent his entire life. After six years of getting to know who G. Callen is, while he himself was figuring it out, the audience finally discovered the last piece of the puzzle that is Callen's past.
NCIS travels to Russia, chasing an international criminal, Ivan Karposev, who has kidnapped Arkady's daughter, Anna. A very nervous Arkady is driving Hetty up the wall while the team tracks down Anna. When Callen and Sam finally do track her down, let's just say she is less than a delight, and has already dispatched her kidnapper. It turns out Anna has quite the background in fighting criminals, seeing as she used to be a cop with the Chicago P.D. Coincidentally enough, she doesn't like her father very much. Nevertheless, Hetty recognizes Anna wants to help NCIS locate the missing 80 million dollars in oil, so she's a part of the team for now.
Kensi and Deeks are left to track down other criminals who were actually after Karposev. The man they take out turns out to be a member of ISIS, and now they have control of the missing oil. The only upside is that the influx of international buyers do not know the sellers, and vice versa. This may be the trickiest and most dangerous case the team has ever had to pull off. Firstly, each seller they have to take down will be in a separate hotel room, leaving each member of the team isolated. Secondly, they have a limited amount of time to get in and out of the rooms and plant a Trojan virus on each computer that will place auction bets (roughly two minutes, no pressure). Thirdly, this will all have to be done without notifying the sellers before they can track down the buyer. The plan goes well, until a shootout with the sellers breaks out, and Arkady takes bullets that were meant for Anna. He begs the team to leave him since they do not actually have clearance to be in Russia, even Anna. Arkady does survive and keeps his mouth shut out of loyalty to NCIS, while Anna takes off on her own.
Simultaneously going on is the storyline of Callen's long-lost father. It is difficult enough being back in Moscow now knowing that half his bloodline originated there. It is even harder knowing that Arkady is purposely telling Callen half-truths about his father. Callen demands answers, and Arkady is finally in a sharing mood. The little that has been pieced together about Callen's father is that he helped refugees escape Russia until he was imprisoned in the Gulag in 1974, never to see his children again. Arkady shows Callen photographic evidence and recounts his own meeting with Callen's father, proving that the man escaped the Gulag and continued to help refugees flee Moscow until 1988.
Armed with this last shred of hope, Callen asks Eric to use his limited amount of access time with the Moscow city footage to see if he can locate Callen's father in the present day. Hetty eventually takes over Eric's search, and reveals that Callen's father died in 2008 and is buried just outside of Moscow. A distraught Callen, who coincidentally was in Russia during that time, finally gets to say goodbye to the last missing piece of his family puzzle. Or does he? The final scene of Season 6 insinuates that Callen's father is actually very much alive, and seems to have just missed his son.
This season finale opens the door for so many new opportunities in Season 7. Will Callen ever find out his father is actually alive? Does Hetty know the truth, and if not, how is that even possible? Will we ever see Anna again? Until next season.
[Photo credit: Richard Cartwright/CBS]