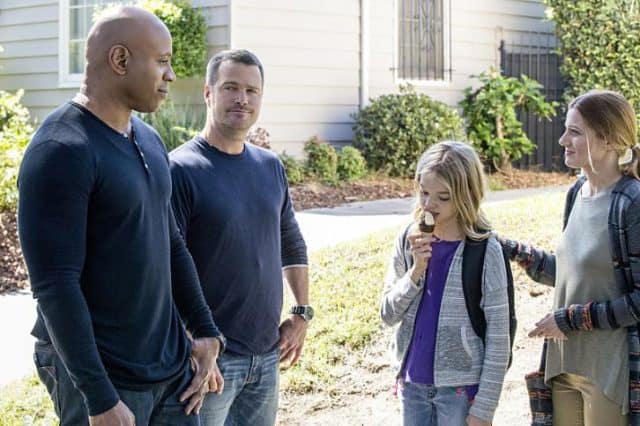 What toys are we letting our kids play with? It's a question many parents ask. Not all parents have to worry about their children spending their days around millions of dollars worth of equipment. With the right parental guidance, that's exactly where the daughter of this week's victim on NCIS: Los Angeles is headed. This week the team's greatest asset against an attack against a DOD-funded missile program is a 12-year old progeny. While they teach her her first lesson in thinking outside of the box, she shows them that innovation is the way of the future. Rest assured, the future is in better hands than we've seen lately.
Yuri Volonev, a grad student working on an electromagnetic missile program for the DOD is electrocuted so badly he is put in a coma. Sam and Callen find his daughter Nadia investigating her father's "accident" before they can ask comprehensive questions of the witness. Not all little girls are brave enough to play detective when a family member is hurt. Then again not all little girls have an off-the-chart IQ and know that a rival university has the guidance system an enemy of her father's would need. Yuri believed that his someone was trying to hack into his system, which is why he protected his most important password in an embedded message for his daughter. That password lead to important schematics which Yuri deleted after tracing the hack as far as he could. Nadia never thought to look in her own messages from her father for the password, yet she thought the video itself would be important. It's her first lesson in thinking outside the box.
Figuring that Nadia knows something about how to break into her father's files, the attackers kidnap Nadia. The good news is that Nadia takes after her father in protecting her data. Any information that Nadia has only works with her iris scan. For the first time Nadia has think beyond normal logic to help NCIS find her. She cleverly fakes an asthma attack to distract her kidnappers long enough to text a picture from her phone which NCIS can trace. Once Nadia is safe, Nell and Deeks bring in a Pakistani grad student influenced by Scott Young, the Director of Student Affairs for a rival university. Young recognized an easy mark in a woman who was desperate for money to get her family back in Pakistan out of poverty. For her co-conspirator, whose real surname is actually Yung, it's about making his Chinese intelligence daddy proud. Never mind he had to nearly kill a man in order to do so. With some cooperation from the grad student, NCIS catches Yung. Yuri, whose anxiety over Nadia has been very vocal through his heart monitor, is on the mend.
It seems that there will finally be some healing around here. Kensi's despair has evolved into an even stronger determination to get back on her feet. Her rage has simmered, so now she needs as many new challenges as she can get. Enter the smack-talking soldier Sullivan, the kind of guy Kensi likes to chew up and spit out before lunch. She has the opportunity until Deeks distracts her, though that was probably for the best since she doesn't need to over strain herself that much. For someone who won't wear the ring, Kensi is pretty quick with that fiancee talk. Let's consider Deeks and Kensi pre-engaged for now. Their official engagement is put on hold until Kensi gets out of the hospital, even though it's obvious Kensi is holding in her glee over the ring.
If this week's episode proved anything, it's that you can do anything if you set your mind to it. Cheesy, but true.
NCIS: Los Angeles Season 8 Episode 8 Review: "Parallel Resistors"
Summary
Kensi has something in common with an asset in this week's NCIS: Los Angeles.