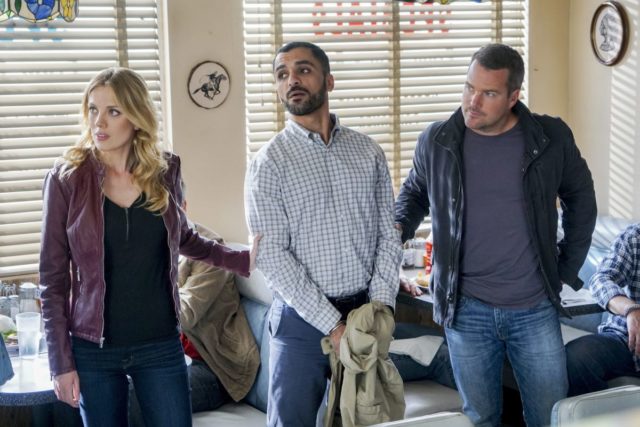 Spring forward, spring into the future on this week's NCIS: Los Angeles. New seasons usher change, and both Deeks and Callen are at a crossroads. After being betrayed by his former girlfriend, Callen has some trust issues with women. Anna has to be patient with Callen until he is ready to trust again. Deeks's relationship couldn't be more set, and the one person who could threaten it all is out of the woods. How long will Callen and Deeks' happiness last?
The DA, his assistant, and the detective in charge of a big drug bust are too willing to accept an anonymous call as their salvation in this case. It's all way too easy. Thus Sam goes back undercover as 'Switch', an associate with connections to King, the biggest drug dealer in the city. The problem is that no one has ever seen King, or so they think. As Switch, Sam pretends to kill one of King's allies to get inside the organization, and is pleasantly introduced to King, who turns out to be a Queen. Sam does almost too good a job pretending to be a drug dealer. King believes him enough to reveal herself and tell him about her partner. Sam calls in the cavalry before King can dispose of her partner, while Deeks and Kensi find King's partner. Sam is smart enough to realize that King's real accomplice is the DA. It figures, since his code name was Zeus and he literally, and arrogantly, lived in a place called Mt. Olympus. I'd say this case said more about Sam's capabilities than any of the criminals.
Deeks is a little on edge during the cases, which is why he doubles down when he hears Detective Whiting is out of the ICU. Deeks assumed he was living on borrowed time because he confessed to Whiting that he killed his former partner. Now that is a very real possibility.
Given Deeks's current state of mind, it was probably best that Hetty sent Callen and Anna to transport Ahmed Han Asakeem. Remember that Asakeem was the prisoner NCIS was transporting when their helicopter was shut down. This means Asakeem was responsible for Kensi's injuries. At first the worst thing about this job is that it interrupted what was clearly a very good moment between Callen and Anna. Little do they know they have to protect Asakeem from a group of angry veterans and a drone-led surgical strike on their position. Someone is looking for Asakeem.
Do Callen and Deeks have a shot at their Happily Ever Afters?