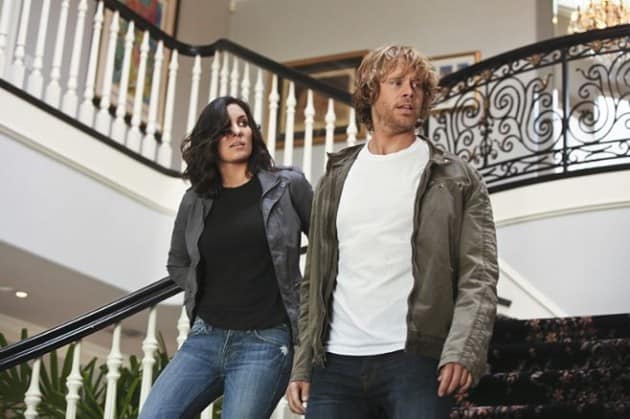 An old friend returns to NCIS: Los Angeles this week, beginning a storyline that will continue until the end of the season, and which may have consequences for a long time to come.
Arkady is back this week, and in dire straits after being attacked and subsequently blown up. Though he'd never admit it, Callen is upset over losing his less than innocent friend. Another reason Callen is shaken is that Arkady is the last living link to Callen finding out whatever happened to his father. Suffice it to say, having mixed emotions doesn't begin to describe how Callen is feeling.
Callen and Sam investigate the crime scene, Kensi and Deeks take Arkady's house, and Eric and Nell are left to piece together who Arkady's killer is. Nell and Eric manage to make progress on their end as a very much alive Arkady reveals himself to Callen. It turns out Arkady shot his attacker and then staged his own death to buy himself some time so Callen could investigate. Arkady needs to be under NCIS protection, but he's not an easy participant or guest in the boathouse. Arkady should have the word "Evasive" tattooed on his forehead, though apparently it's for very good reasons, at least according to him. Once Kensi and Deeks discover that Arkady's secret yacht is actually a cargo ship, Arkady is forced to reveal that he brokered a Russian deal that violated American economic sanctions.
Other pieces of the puzzle include two ex-LAPD officers who went into private security and were after Arkady. Fed up with too many questions and not enough answers, Sam and Callen sick Hetty on Arkady, and he folds like a losing poker hand. Arkady tried to back out of a deal that will transfer $100 million worth of crude oil, breaking American sanctions with Russia. A meet with the brokers turns into a shootout and leaves the team with more questions. Both LAPD officers are dead, the ship with the oil has vanished, and Arkady is in the wind before he can be asked any more questions.
The circumstances of the day reflect against Callen's personal life, specifically his relationship with Joelle. Now fully in the loop, Joelle supports Callen but is understandably nervous that there will come a day when Callen won't walk back through her door. Thankfully, today is not that day, so Callen gets to have a healthy dinner with his girl at night.
Also happening this week, Granger makes it his mission to worry about the LAPD Internal Affairs investigation surrounding Deeks, given his relationship status with Kensi (frankly, Granger may want to shift his focus to the wonder twins working in OPS). Though the Densi relationship is still going strong, that's not to say they are not worried about the investigation. When Kensi flat out asks Deeks if the LAPD will find anything that could hurt him, Deeks tells her not to ask him that because he really doesn't have an answer for her.
Now there has been a lot of speculation about this investigation into Deeks, and I'm just going to put my theory out there. We all know that Deeks is the farthest thing from a dirty cop, so there's nothing to find there. Plus, he would never be able to get anything past Hetty, hence why she was one of the first to know about his relationship with Kensi. The one thing that would be on Deeks' mind that would explain the answer he gave Kensi would be his actions in Afghanistan, when he thought Kensi was dead. If anyone suspected what he had done over there, there would certainly be an investigation. However, there are only two other people who know what happened, an Afghan soldier and Deeks' victim, and neither one of them would ever say anything to anyone that would reach the LAPD. Even Hetty can only speculate as to what Deeks is hiding at this point. By the end of the season, we may know for sure.
This latest episode began a chain of events that will domino until the end of the season. How do you think it will play out?
[Photo credit: Monty Brinton/CBS]