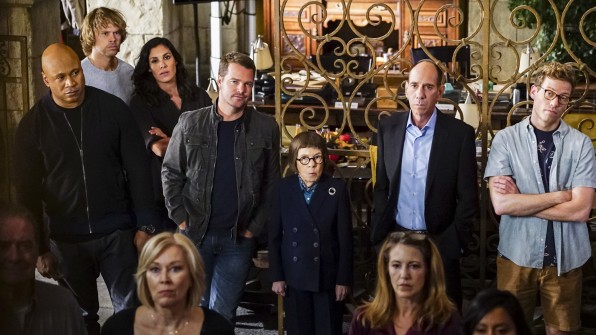 NCIS Los Angeles is the second offering from the highly acclaimed and very popular franchise that is NCIS. LL Cool J stars as former Navy SEAL Sam Hanna turned Special NCIS Agent alongside Chris O'Donnell's character, Special Agent G. Callen. Together, they make a formidable team that goes undercover on a regular basis for the purpose of apprehending criminals who are serious threats to our national security basically just like Mark Harmon and his talented team or Scott Bakula and the colorful crime fighting gang on "NCIS" and "NCIS New Orleans" respectively.
But, we have to give credit where credit is due and say that the creative teams on all three shows do an excellent job to make each one fresh, new, and amazingly different from the others.
Now, on NCIS Los Angeles, Callen and Hanna have an excellent team to work with, starting with their bosses, one of whom passed away on January 19, 2016, not on the show but in real life. Miguel Ferrer played NCIS Assistant Director Owen Granger. He was only 61 and cancer took him way too soon.
We know that all of the many NCIS Los Angeles fans in the world will miss him. And, the rest of the team, Linda Hunt, Daniela Ruah, Eric Christian Olsen, and Renée Felice Smith, all kill it in their roles. As an ensemble cast, the cast of NCIS Los Angeles is definitely one of the best, with amazing chemistry paired with some really funny banter and mixed with real human interactions, thanks to the great writers of the show. Here are our picks for the Top Five NCIS Los Angeles Episodes of All-Time:
1. "Hot Water" NCIS Los Angeles (Season 8 Episode 13)
https://www.youtube.com/watch?v=xI6Fk6lOFFo
In this episode, the members of the NCIS team find themselves compromised yet again. Some damning evidence is planted that results in Callen, Deeks, Granger, and Sam being arrested courtesy of the mole inside of NCIS. And, this all happens to coincidentally occur on the same day that Under Secretary Duggan, played by Jackson Hurst, is returning to L.A. to get a resignation from Hetty.
Yes, the mole is definitely back and it's in a really big way. The end result is that NCIS agents are getting framed for crimes that they simply didn't do or just getting picked off one right after another. They're all under fire and only the team at NCIS is even the slightest bit aware that there even is a mole. What that means is that there's not a single arresting officer with any of the various agencies involved that is in-the-know or has even an inclination for looking past the seemingly iron-clad cases against the team. This is in spite of the ridiculous fact that they received them from an anonymous source. So, although the team at NCIS Los Angeles has been hunting the mole to this point, it would appear that the mole is now hunting them and hitting them head-on.
And, Granger seems to get the worst of it. Previously he found himself waking up after being drugged. He's also sharing a room with a woman who targeted him and she's tied up to a chair and severely beaten. Then the LAPD comes busting in. If that's not bad enough, he gets stabbed, winding up in the hospital, comatose and on a ventilator. We were glad to see that, although these were probably his final scenes on the show, Miguel got yet another chance to really show his acting chops to the world, making this one our favorite episodes of all time.
2. "Citadel" NCIS Los Angeles (Season 7 Episode 2)
We loved this episode because of the fact that, only a mere two minutes into it, it was obvious that this was one of their best episodes. Not only was it explosive, as well as filled with plenty of NCIS intrigue mixed with a splash of humor, but we were really excited at seeing DEA agent Talia Del Campo back on the canvas. In this episode, she loses her partner to a brutal murder and ends up seeking the help of the NCIS team.
So, they all end up investigating the Citadel Behavioral Research Center, which is one of those psychological assessment firms that analyzes potential government agents. Sam and Callen go undercover and take the test, one failing and the other passing, making for a humorous scene between the two. And, the scene between Hetty and the head shrink is a classic. She quips that he had been administering those tests for years and never asked what "HL" stood for. And, of course, it's Hetty Lang, meaning that she wrote the test.
Meanwhile, this episode contains one of the more endearing Kensi and Deeks scenes. Kensi suspects that Deeks might be hiding something from her and then she gets the surprise of her life when he actually introduces her to his mom. You gotta love those two, even though we prefer not to ever call them "Densi". https://www.youtube.com/watch?v=KUKd2liF9vY
3. "Home Is Where The Heart Is" NCIS Los Angeles (Season 8 – Episode 6)
https://www.youtube.com/watch?v=IKMAGFAgmpQ
When Deeks refers to Granger as "Granger Grumpy Pants" and "Heir Geez Meister" when discussing an issue with his co-worker and Granger walks up behind him and tells him that "Assistant Director" will suffice, it's just a classic NCIS Los Angeles moment. Then Granger has a heart-to-heart talk with Deeks about how he's dealing with Kensi's recovery from the injuries that nearly took her life. Although seemingly remaining stoically disconnected, Granger gives him some short but sweet advice about the situation. It was a great scene for Miguel and gave him a much more human touch. Let's face it, Miguel was a consummate actor and his talents were a bit underused on the show, so it was good to see another side of him in this episode and why we feel that this was such an excellent episode.
4. "Granger, O." NCIS Los Angeles (Season 7 – Episode 22)
In this episode, Granger is escorting Jennifer Kim, played by Malese Jow, back to L.A. She's a North Korean spy, but she's also his long-lost daughter. We loved this episode because it uncovers this truth about Granger who we always thought seemed more than just a little bit lonely. Naturally, there's plenty of NCIS Los Angeles action, excitement, and gunplay. But, this episode has an especially happy ending when Jennifer chooses to accept her father's help after he tells her that he will speak to some folks at the DOJ who have the power to shorten her prison stay. All she has to do is denounce North Korea. Earlier in this episode, she sternly informed Granger that she definitely didn't need him in her life, however, in the end, she agrees to start seeing if maybe they could become friends, considering everything that they had been through together. https://www.youtube.com/watch?v=ngujrD1YaIU
5. "Impact" NCIS Los Angeles (Season 5- Episode 2)
The NCIS agents are investigating a private jet crash in which a journalist is traveling with a former Vice Admiral and they're both killed, They also happened to be collaborating on a "tell all" book filled with the former military man's secrets at the time of the crash. Callen and Kensi head over to the journalist's home just to discover that any evidence that existed was incinerated in a fire. Meanwhile, back at the crash scene, Sam discovers an electronic recorder that is badly damaged. Of course, in true NCIS LA form, Nell manages to recover one track that serves to reveal the important fact that war crimes had been committed in Afghanistan.
This leads the team to believe that the plane was sabotaged for the purpose of preventing the truth from coming out. In addition, Deeks finds a bogus air traffic recording, proving that the pilot received landing instructions that were erroneous. The NCIS LA team then puts together a sting operation and they use the journalist's girlfriend in a successful effort aimed at capturing the two bad men involved in the sabotage who are lured to her house. So, as a result, Hetty tells the team that this was a big win. However, Callen knows that the team is surely up against something that's a whole lot bigger. This is an excellent episode because of all the intrigue involved and the showcasing of the team's considerable talents. In addition, the plane crash and action sequences are well-planned and the cinematography is especially creative.
Tell us what's wrong with this post? How could we improve it? :)
Let us improve this post!